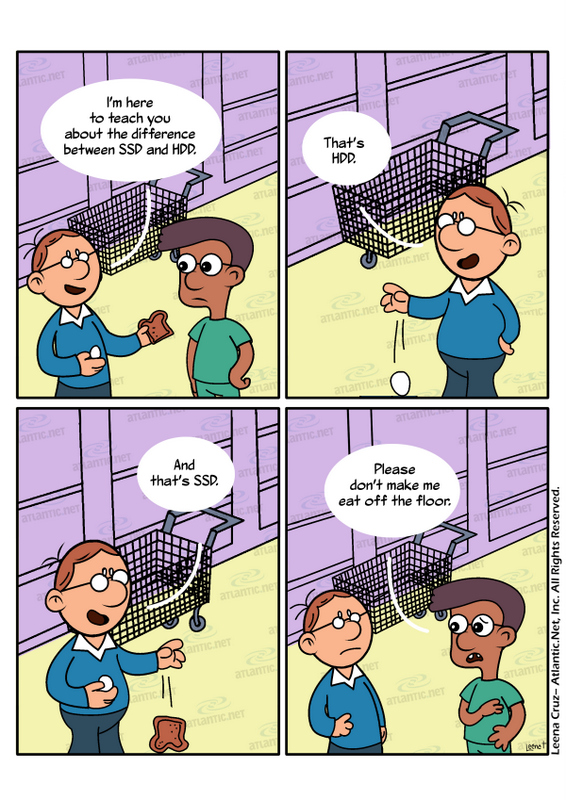 Our blog functions, in part, to present typical interactions between our hosting consultants and individual clients. The users of our hosting solutions often have similar questions, and this "Real World Scenario" series allows us to highlight helpful information provided in these discussions. The below dialogue is based on an exchange between our staff and a potential customer interested in our SSD Cloud VPS (virtual private server) offerings.
Consultant: Please tell us about your hosting needs.
Client: Hi, I am considering your VPS service. What I would like is to run some simple .aspx applications. I also need to install a couple services: RabbitMQ and Elasticsearch. Those applications are not .Net based, but they can be installed and run as Windows Services. Is that allowed? Further, I would like to have some TCP ports open for these services. Will that be possible as well? Thank you.
Consultant: Our VPS comes with full administrative access. You will be able to accomplish everything you listed. All ports are open for our cloud VPS except for SMTP, which can be opened by request.
Client: Some providers optionally include SSL certificates with VPS. I just wonder if Altantic.net has similar features. Would I incur an extra cost?
Consultant: Unlike other providers, our VPSs are full-fledged virtual servers in which customer have root access. We do not offer SSL certificates as part of the package for these servers since they are not managed. We do not have access passwords to the internal customer servers at all.
Client: The site mentions 100% SSD. Does it mean the 80/100G data also uses SSD? Or is the data in SAN or SATA? What's the RAID configuration? Also can you give me some information on how backup works? I imagine that your system would just copy our VPS entirely to another disk location. Can backup and restore be managed through your set of tools (with Cpanel or without Cpanel)?
Consultant: Our cloud VPSs are comprised of very large storage nodes and computing nodes. These nodes use SSD's in a RAID 10 configuration. The data on the VPS is stored within the virtual hard disk (size based on the plan chosen). Backup snapshot images are taken once a week. The backup feature is not implemented into our cloud control panel yet but is planned for the future. For the time being, a request can be made from within the cloud control panel to rollback a VPS. The management interface is of our own design and not affiliated with cPanel. Our cloud control panel provides an interface to create, remove, and manage cloud servers.
Client: Are there a list of components available specifically for .aspx environment? We are using IIS URL Rewrite now. Do you provide something similar?
Consultant: Since our cloud VPSs are unmanaged, you are free to install any components needed to run the services you require. You have full access to the server via SSH, RDP, and VNC.
Client: I can set up a VPN from our office to the server directly and easily, am I correct?
Consultant: As mentioned before, our VPS are private virtual machines that allow you complete control. Configuration of the server is the responsibility of the owner of the server. This means that you are free to choose whatever VPN solution is easiest for you to configure.
Client: Using a single Windows VPS, are there any limitations on number of domains (websites) we can put on the server?
Consultant: It is important to note that we provide hosting solutions and are not a web hosting provider specifically. There are no limits to the amount of domains you can host because you get access to the Windows VPS as if it were a physical computer via remote desktop protocol and VNC. You are only charged for the hourly operation of the virtual server and outbound data transfer. We do not control what you decide to do with it (such as hosting websites). Some customers use our VPSs to run forex trading software, for example.
Client: Is there something like a Firewall where we can open/close ports?
Consultant: All of our VPSs have a dedicated public IP with no firewall in front of it. All ports are unblocked on our end, except for port 25, by default. Each VPS does come with the native firewall built into the OS though.
Client: We are not familiar with cPanel. I understand it may incur additional cost. I also understand it is an admin panel, with tools that we can use to easily manage sites and their feature provisioning. Can you give me more info or point me to a URL about its functions (especially, how it can add value to a Windows system)?
Consultant: You have the option of provisioning a server with cPanel pre-installed, but it runs only on Linux. There is no Windows version of cPanel. If you choose to use Windows then you would need to configure IIS as the web server and manage it accordingly.
Client: Are there any website traffic or access reports that come with the service? What are the options?
Consultant: As we are not a website hosting provider such as GoDaddy.com, we do not provide a web traffic report or anything along those lines. Our service provides servers for customers who need the ability to customize and manage features on their own. Some experience is needed for some of the operating systems and configurations needed to set up what is required.
Client: Suppose I have a Linux VPS server with Atlantic.Net as well. Is there an easy way to connect the Linux and Windows servers, sort of like an internal network?
Consultant: Yes there is. We give an entire private IP range that can be used to set up a LAN between all cloud servers in your account.
Client: Great! All clear! Thanks. I really appreciate the support.
Consultant: Thank you for using Atlantic.Net. Please let us know if you have any further questions. Have a great day!
At Atlantic.Net, the thorough and conscientious support you see above is not a sales strategy. It's the way we do business. You can have one of our SSD cloud VPS servers online in 30 seconds, backed by ongoing, live 24/7 support.
By Kent Roberts; comic words by Kent Roberts & art by Leena Cruz.