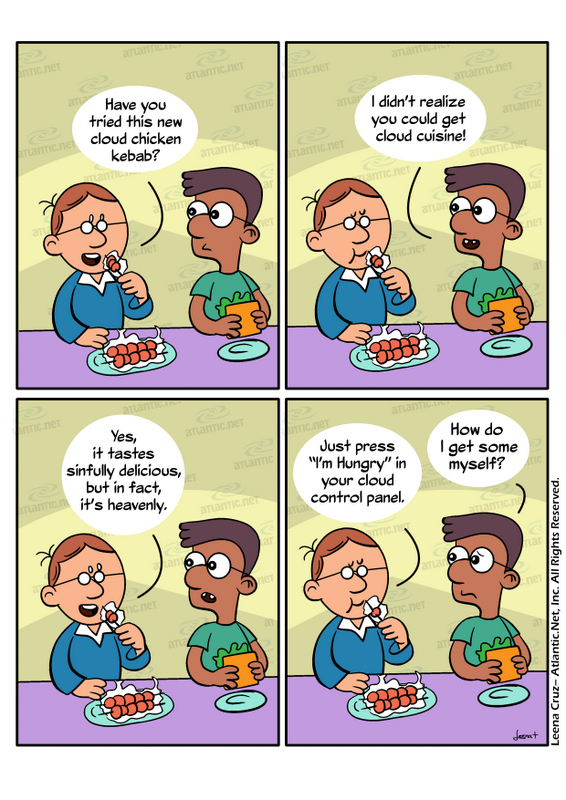 Cloud computing represents a fundamental technological shift. By allowing businesses to cut costs while enhancing the speed of their systems, the distributed virtualization strategy is being put to use in manifold ways. In academic settings, large datasets are being calculated in short windows of time, allowing researchers to perform analyses that previously were financially unfeasible. In manufacturing, the Industrial Internet is underway, with thousands of sensors facilitating real-time monitoring in production plants. In medicine, misdiagnosis is becoming less common for cancer patients, with doctors cross-checking images of similar biopsies in moments.
These advancements have become possible in part due to optimized speed, which makes the technology compelling to all businesses. As described below, hospitality companies have started taking advantage of cloud-hosted applications to expedite ordering and payment processes.
Typically our "Real World Scenario" series explores interactions between clients and our hosting consultants: questions are answered regarding a company's search for a new IT environment. However, this installment was inspired by a small restaurant we discovered that is taking advantage of distributed virtualization, enhancing the experience of every customer who walks through its door.
"Servers" in two different fields – a personal story
I recently visited Ahmed Indian Restaurant in Orlando, Florida. The chicken tikka masala and fried fish were outstanding, and I am looking forward to going back to explore the rest of their menu. However, since I am in the information technology field, I was also intrigued by the restaurant's computing system.
I have been interested in restaurant IT because, in the past, I have found myself accidentally and humorously in competition with the food and beverage industry. In my company, we host servers (i.e., server computers). We have had to adjust pay-per-click (PPC) advertising campaigns so that people searching for "restaurant server" and "restaurant host" information aren't errantly delivered the ads for our site.
Similarly, we ran into difficulty when developing language for a billboard at one point. We were considering the simple message, "Server Hosting Since 1994." That slogan was scrapped out of concern that we might come across as a restaurant or catering company.
Those two bits of marketing confusion I've experienced have helped me relate to restaurants in terms of online presence within the search engines. However, what I was noticing during this visit to the restaurant had to do with their use of distributed virtualization across a number of mobile devices.
Restaurant's use of cloud app on mobile devices
Cloud computing has greatly expanded the number of mobile applications, allowing significant enhancements in performance so that feature-rich programs can operate quickly. To take advantage of this technology, Ahmed Indian Restaurant uses a point-of-sale (POS) software that syncs data across all devices, so that information is updated simultaneously.
I spoke with the owner of the restaurant about the benefits of the system they are using. The following dialogue is based off of that conversation.
Me: What's the system you are using here?
Restaurant Owner: The cloud-based software we use is called POSLavu. It is a software, specifically designed for restaurants, that runs on Apple mobile devices such as iPads and iPhones. All of the devices, and all of the transmissions conducted by them, are synced within our Wi-Fi network.
Me: How does it benefit your business?
Restaurant Owner: For one thing, it makes payment easier. We have the option to charge customers at the table if they are paying with a credit card. They can sign the iPad on the spot and automatically be emailed a receipt. Plus, since we have a number of iPads, we can perform multiple customer checkouts at the same time, rather than having people wait for other checkouts to process.
Me: I assume it helps with ordering too.
Restaurant Owner: Yes, that process is also expedited. The order goes directly from the table to the kitchen, sent through the Wi-Fi by the software. Just like with paying, there is no waiting in line to punch in orders because all the servers have their own individual devices.
Me: Are there any other benefits you've seen with your customer interactions?
Restaurant Owner: Yes, we can customize the menu by uploading an image for each item. If a customer wants to see how a certain dish looks, we can show them the picture.
Me: What about administrative tools?
Restaurant Owner: We have back-end access, so we can look at reports for weekly and monthly sales – organized by item, server, and a number of other variables. It gives us a better sense of the popularity of our menu offerings and how well servers are doing over time.
Me: Is this system cost-effective?
Restaurant Owner: The system itself is reasonably priced, and it's also reduced our credit card processing fees.
***
The IT approach at Ahmed Indian Restaurant is now more customer-friendly, and administrative capabilities have been strengthened as well. Applications such as POSLavu often reside on high-speed servers such as our cloud VPS environments. Atlantic.Net has optimized mobile app hosting solutions for any size business and any situation. Both independent restaurants and chains are taking advantage of our hosting solutions for increased efficiency.
By Moazzam Adnan; comic words by Kent Roberts & art by Leena Cruz.