Orlando Colocation Florida
Atlantic.Net provides industry-leading infrastructure backed by redundancy, grade, experience, and proven expertise. Our Orlando location is the logical choice for organizations that want to colocate in Orlando with a 100% uptime guarantee! Our Orlando data center is carrier-neutral and known for accommodating high traffic, bandwidth-intensive projects, and large-scale server deployments. Your search for the superior colocation in Orlando is over . . . we're right here!
Carrier Neutral Data Center – Network Providers
Atlantic.Net works closely with following telecommunications providers to provide you access to world-class networks.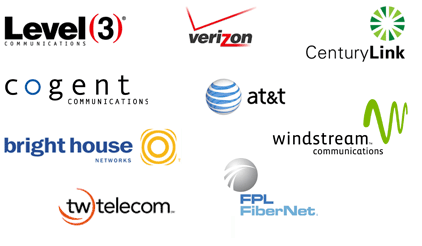 100% Uptime Network
Atlantic.Net's Network is designed to provide you the highest-quality infrastructure, bandwidth, and redundancy in the industry. These features enable us to deliver on our 100% Network and Infrastructure Guarantee (read more about our SLAs)
SSAE 16 (SOC 1) TYPE II (Formerly SAS 70) Certified
Atlantic.Net's Orlando Colocation Data Center Hosting Infrastructure is fully audited and SSAE 16 (SOC 1) TYPE II (Formerly SAS 70) certified. Our hosting operations are routinely and systematically inspected with focus on control objectives in the areas of organizational structure, governance, administration, physical/environmental controls, and physical/logical security. Rest assured, your system is secure with Atlantic.Net.
Orlando Colocation Facility Features
Redundant UPS
Redundant AC/DC Power
Data-Grade HVAC
24×7 Secure Entry
Offices and Conference Facilities
Advanced Fire Suppression System
Flexible Space Configuration
Customer Staging Area
Secure Cabinet and Cage Space
Continuous Camera Coverage
Conveniently located in Orlando, Florida
Orlando Colocation Data Center Power
Generator backup for 100% of customer peak load with a fuel supply of 24 hours, with guaranteed refueling contracts.
120/208v AC and — 48v DC Power circuits.
Parallel redundant UPS with N+1 modules.
Orlando Colocation Data Center Security
Controlled access to data center – Biometric palm scanners and proximity card readers.
Locking cabinets & cages with scalable security level by request.
Closed-circuit digital camera monitoring with 24-hour recording – 90-day digital video storage.
Centralized security stations – Secured 24/7/365.
Colocation – All the Benefits of Owning High Speed Network…at a Fraction of Cost!
Free up your workspace and save money. Enjoy the benefits of our multi-million-dollar infrastructure and eliminate the expense associated with owning and maintaining your own network. Secure and customizable colocation cabinets and cage spaces are available.
Share with us your vision and goals and we will develop a colocation solution tailored to your needs! Contact an advisor at 800.521.5881 or email us at websales@atlantic.net.
Orlando Colocation – Florida Data Center