What is Private Hosting?
Private Hosting is a hosting arrangement such that an organization's infrastructure, databases, and servers all exist in an exclusive location inaccessible to anyone outside the company or the private hosting provider. This type of hosting is often used by large companies in need of enterprise-grade functionality.
In the early days of the Internet, private hosting was done completely on-site for big companies. They would invest in servers housed in the organizations' headquarters or a private data center.

Virtual Private Hosting (VPS Hosting)
In the 2000s, improvements in software and hardware capabilities led to the development of the virtual private server (VPS). VPS technology allows software called a "hypervisor" to use the physical hardware of a server, such as memory, CPU and networking capabilities. Each virtual server acts like a normal operating system with its own applications, email software, Internet browsing capabilities, etc. Each user has his or her own unique user ID, password, and authentication code to sign on with. For an example of the benefits of VPS Hosting, consider a company with offices in different parts of the world. Say a chemical news bureau is headquartered in London but also has other offices in world energy hub cities such as Houston and Shanghai. Rather than redundantly set up the Texas and China offices with all of the same hardware and servers in London, a VPS hosting solution is established. A virtual server powered in the UK allows users in Houston and Shanghai to log on through a virtual server and see the exact same desktop and shared file servers as their colleagues in London.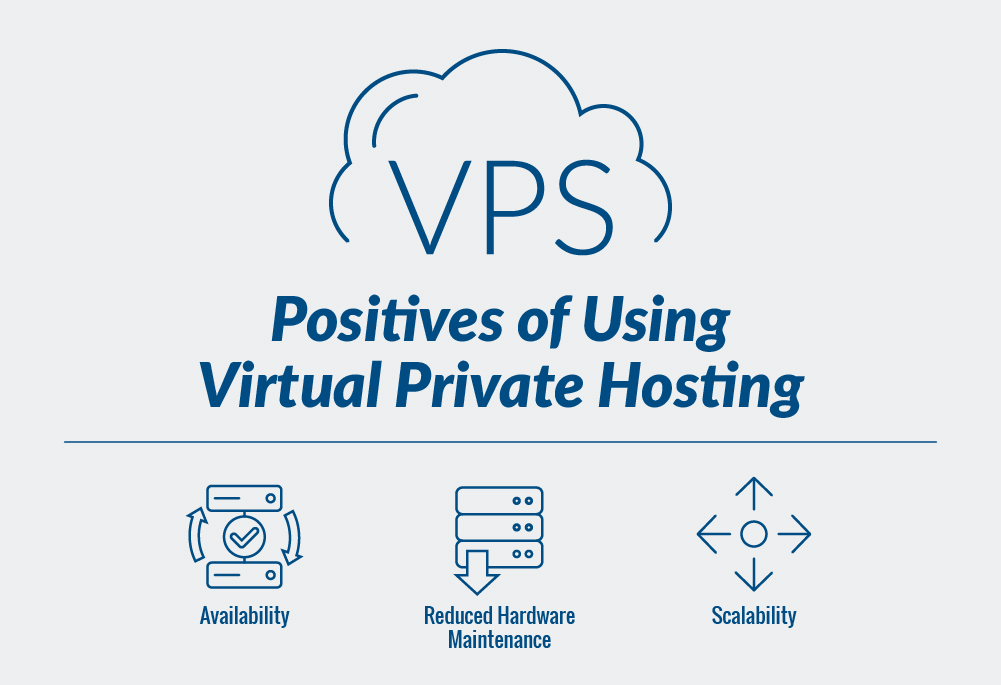 Positives of using Virtual Private Hosting
Availability: Virtual servers are spread across hundreds of computing nodes, but they only run on one node at a time. If a server on one node encounters an issue, it can be easily migrated to another node. While this alleviates downtime compared to a physical machine, it doesn't completely prevent it. This also simplifies load balancing and disaster recovery.
Reduced Hardware Maintenance: Computers that do a lot of 'heavy lifting' from running various apps and performing lots of high-level commands wind up needing a lot of maintenance to make sure they don't suffer from any number of system decay issues. When using a VPS, the actual hardware is only doing one thing - logging on to the virtual server - taking up considerably less local memory and resources.
Scalability: While dedicated private hosting requires the purchase of additional hardware, adding a server or memory space can be done instantaneously with a VPS as long as there is space on the computer to configure additional virtual servers.

Private Cloud Hosting
Private Cloud Hosting, also known as a private cloud, is a situation in which a company's private infrastructure, services, and databases are placed in a cloud computing environment that is inaccessible except for employees of the business and the hosting company. The actual servers hosting private clouds do not contain information or resources for any other organization, differentiating them from public cloud environments. Private Cloud Hosting has several advantages over both Virtual Private Hosting and Public Cloud Hosting.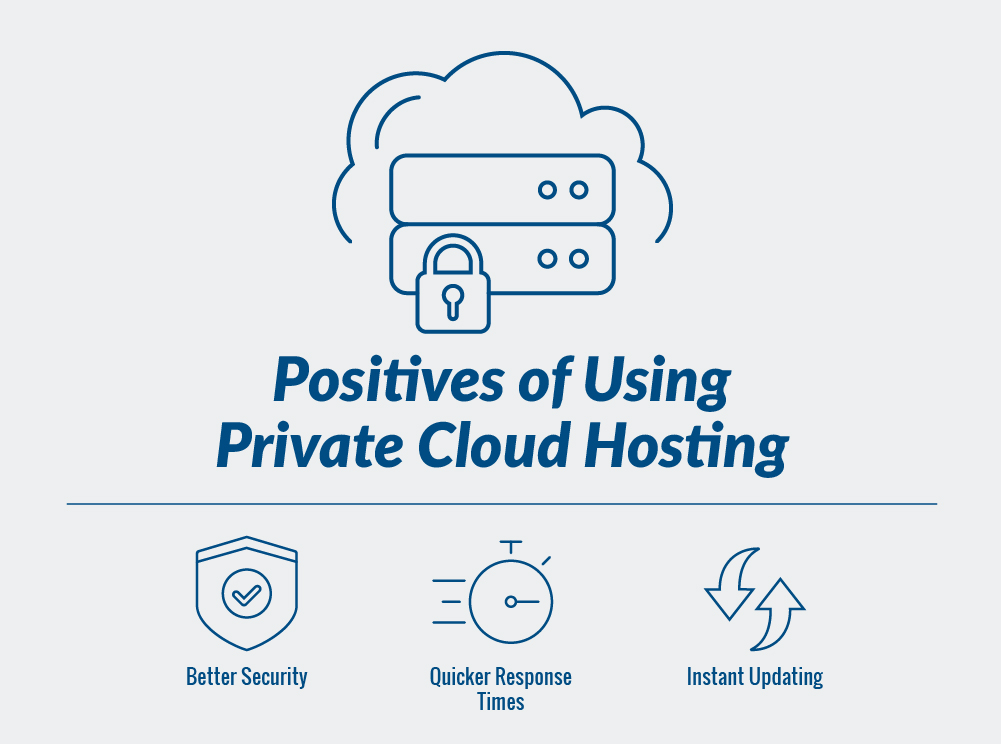 Positives of using Private Cloud Hosting
Better Security: Security in the cloud is a concern for many enterprises, so private cloud hosting companies tend to emphasize security in the service offering. Public clouds have lots and lots of entry points because of the high number of clients and users accessing the shared server space. Private clouds contain just one organization and often have to be custom-built to comply with specific industry standards.
Quicker Response Times: Every single function of the applications and infrastructure is the responsibility of the cloud-computing provider, not the enterprise itself. This means all IT challenges and solutions are managed by the experts doing the hosting. Because downtime costs the provider not only in money but also in reputation, cloud providers have round-the-clock service available to remedy any hiccup.
Instant Updating: When new versions of software become available, there's no hands-on updating done by your IT department, nor is there the need for users to delay starting their workday as they watch a progress bar and spinning clock icon slowly install the latest version. All of this is done during non-business hours and with advance notice from the cloud-hosting provider.

Conclusion
Private hosting is essential for some enterprises seeking the ultimate in security safeguards and the ability to scale their server capabilities at will. While VPS hosting is a viable solution for many firms, private cloud hosting a powerful option for large organizations given its advances in security, functionality, and ease of upgrades.
Share your vision with us and we will develop a hosting environment tailored to your needs!
Contact an advisor at 888-618-DATA (3282) or fill out the form below.
© 2019 Atlantic.Net, All Rights Reserved. Cookies Settings
We use cookies for advertising, social media and analytics purposes. Read about how we use cookies in our updated Privacy Policy. If you continue to use this site, you consent to our use of cookies and our Privacy Policy.