What is public cloud?
In order to take full advantage of the benefits of cloud computing, every organization must choose not just the right cloud provider, but also the particular model of cloud computing that suits its business needs. Public cloud may be the model which is most well known, in part because it is used by many of the world's largest companies.
Cloud computing is broadly defined as the use and storage of data and programs over the internet, enabled by virtualization, as a scalable and elastic service. Atlantic.Net's Public Cloud is basically the delivery of that service from a pool of shared resources, on demand. It provides some of the same benefits of private or specialized compliant clouds, but with significant differences which make it ideal for some organizations.

The Benefits of Public Cloud
Scalability in IT systems is the ability to quickly add large amounts of computing power on-demand, according to the needs of the IT system. A company using Atlantic.Net's Public Cloud, and which experiences a major increase in demand for resources, can meet that demand by utilizing our RESTful API and rapidly adding virtual machines to scale the system. Organizations utilizing Private Cloud have resources reserved for them but with the trade-off of less scaling capacity. Businesses using Atlantic.Net's Public Cloud can take full advantage of a network that includes five data centers coast-to-coast in North America and Europe, particularly benefitting organizations with international staff or customers. Adding Cloud Servers in a different data center can improve performance without requiring a major financial investment. Another data center opening soon in Virginia will further expand the capacity of the Atlantic.Net Public Cloud. Atlantic.Net's Public Cloud is also closest to a utility-based cloud computing model, in which all expenses are operating expenses, rather than capital expenses. Everything is billed according to use, with no up-front cost and no commitment. The broad sharing of resources between many organizations in Atlantic.Net's Public Cloud can produce economies of scale and reduce costs, while making technologies available that would be impractical for a company to deploy on its own. Atlantic.Net's Public Cloud can also benefit non-IT companies with significant IT workloads.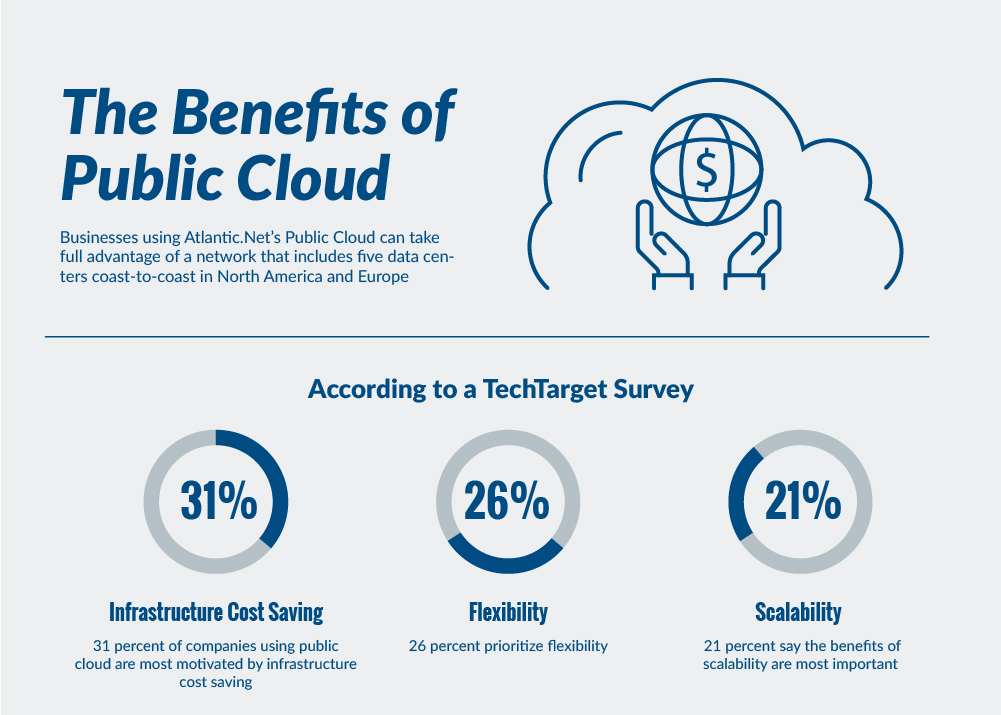 The number of companies using cloud-based applications to enhance collaboration, engage customers, and streamline business practices will grow from 70 percent today to 90 percent within three years, according to IDG's Enterprise Cloud Computing Survey, 2016 . These companies are often best served by avoiding the management and maintenance of their IT systems, rather than taking on burdens outside of their core competency, and Atlantic.Net Public Cloud leaves these responsibilities to our own highly trained in-house experts. According to a TechTarget survey , 31 percent of companies using public cloud are most motivated by infrastructure cost saving, while 26 percent prioritize flexibility, and a further 21 percent say the benefits of scalability are most important. While those are not the only benefits of public cloud, and achieving them is not automatic, they are major advantages for many digital businesses.

Who uses public cloud?
Organizations that have different IT demands at different times, or in different regions, can benefit from public cloud's scalability and cost efficiency. To maintain performance with dedicated resources would require purchasing as much capacity as would be needed during peak periods. Those with variable workloads can add capacity as needed, rather than attempting to project future requirements. Companies offering online stores and web services companies, software developers, and web hosts can gain efficient scalability, which in turn delivers tremendous performance and availability at the lowest possible cost.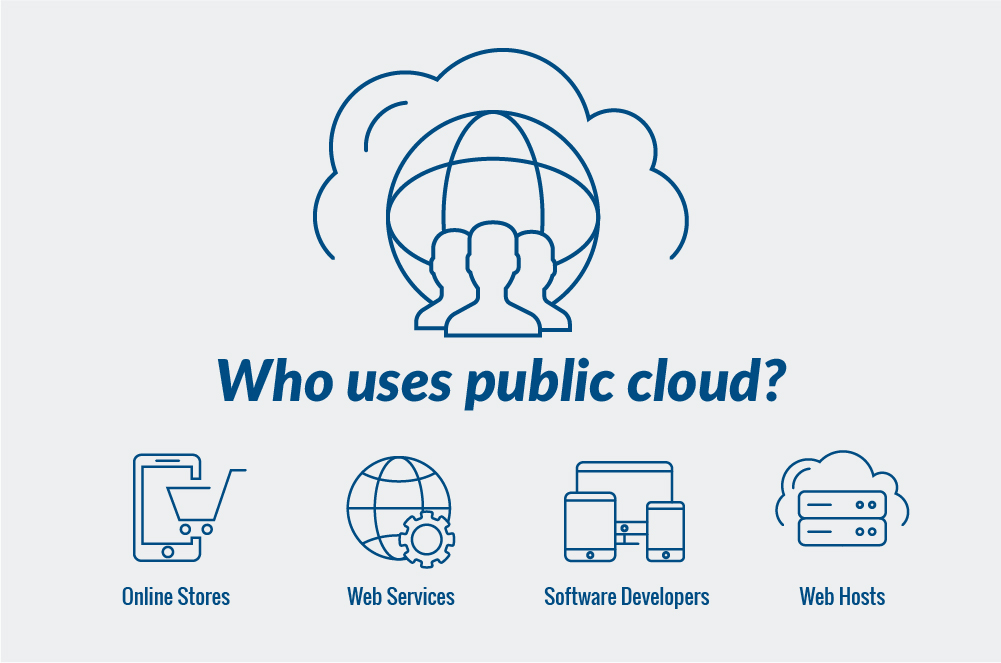 The organizations most likely to achieve the greatest benefit from Atlantic.Net's Public Cloud, therefore, are often those with unpredictable or highly variable network traffic, those serving customers or end-users with data which is not regulated or particularly sensitive, as well as those looking to reduce capital expenses.

Atlantic.Net's Public Cloud's Unique Advantages
Atlantic.Net offers a combination of valuable experience, service, and infrastructure that helps organizations go from the planning stage to achieving business objectives with Public Cloud. The importance of scale to public cloud services means that the market tends to be dominated by big companies, with the result that starting out can seem daunting and impersonal. Atlantic.Net provides a range of on-demand plans available, and the personalized customer support to guide organizations through the entire process, so the pitfalls and risks of unsuccessful implementations can be identified and avoided. Atlantic.Net's Public Cloud provides IT services accessed through the internet, just like Private Cloud, but is offered on-demand, and has a degree of scalability and cost efficiency unmatched by other cloud environments. It is ideal for businesses with workload growth and capital expense concerns, and for companies that do not require guaranteed resources or certain specific security measures. If this describes the business needs of your organization, our customer support experts can help you set up an Atlantic.Net Public Cloud environment that meets those needs, now and for the future.