Why the Days of VMware Are Over: Multiple Benefits from Hyper-V Case Studies, and Free Alternatives (Comic)
/ /

Why the Days of VMware Are Over: Multiple Benefits from Hyper-V Case Studies, and Free Alternatives (Comic)
0 Comments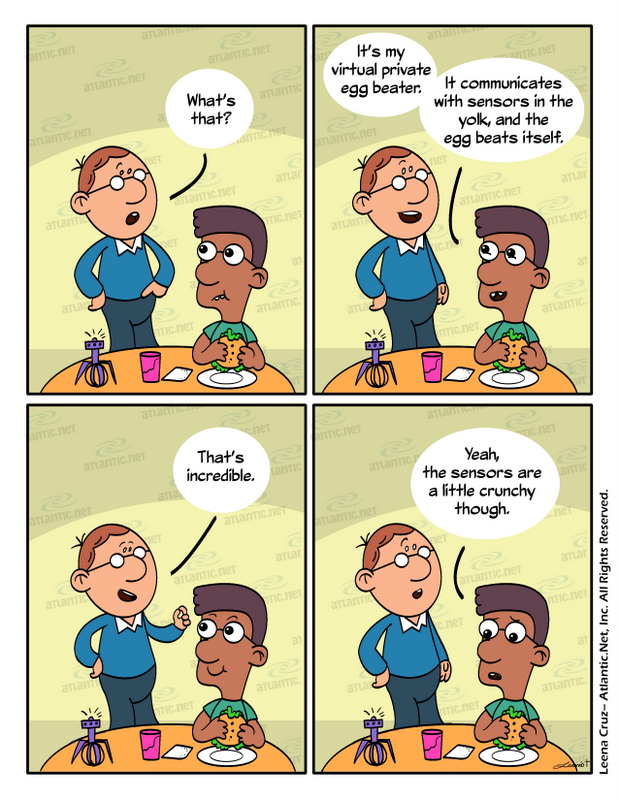 VMware has been dominant in the world of virtualization for years. However, competitors have been gradually chipping away at its lead among hypervisors. Between 2008 and 2013, Vmware has lost 8% of its market share to Microsoft Hyper-V (dropping from 64% to 56%, while Hyper-V advanced from 20% to 28%).
Microsoft has been climbing a steep hill with its product. IT departments and hosting companies grew accustomed to VMware. Server administrators don't want to have to learn the different organization and functionalities of a new system. Many admins also don't want to go "all in" with the tech giant (regardless of the fact that VMware has become the "Goliath" in this particular segment).
Regardless of aversion to change and sentiments toward particular brands, reducing the licensing cost of virtualization is becoming compelling for many organizations. As one reviewer notes, "For a wide range of use cases, Hyper-V can be substantially cheaper than VMware." Plus, KVM and Xen offer hypervisors free of charge.
Case studies of a branch of the University of Texas in the United States and a Toyota division in Africa represent different types of organizations and geographical locations. Both demonstrate the advantages of transitioning from VMware to a solution from one of the world's strongest technology names: Microsoft Hyper-V. KVM and Xen deserve consideration as well.
Note that operating system manageability is an additional potential advantage of reworking your system. However, the below two summarized case studies are biased (although also compelling) in that regard because they are produced by Windows manufacturer Microsoft.
Case Study #1: University of Texas at San Antonio
The University of Texas at San Antonio (UTSA) was using VMware for a full spectrum of academic and administrative operations: research, classroom and homework assignment tools, interaction with the local area, and community service efforts. The branch campus of the University of Texas wanted to lower its virtualization costs and better integrate its system for greater management efficiency.
UTSA started out with 30 physical machines running the VMware ESX platform and supporting a total of about 550 VPSs (virtual private servers). The VPSs use both major operating systems: Linux and Windows. They were responsible for over 100 diverse web environments, ranging from websites to applications for general business management. Because different operating systems (OSs) are handled in different ways, the IT department required knowledge of the tools to run the technologies for both OSs. They also had to use separate software to monitor and administer the complete infrastructure.
When UTSA migrated from VMware to Windows Server 2012 R2 with Hyper-V recently, it experienced the following benefits, according to its IT management and staff:
As with any organization, there are really to bottom lines with technology:  quality and cost. According to UTSA system administrator David Vargas, the school was able to continue to meet its institutional goal of "excellent service to our university community" while lowering its costs.
UTSA system engineer Steven Stewart noted the efficiency and simplicity of using a single system: it is now possible to monitor everything at once, providing "coordinated visibility" for all involved.
Case Study #2: Toyota Tsusho Africa
Toyota Tsusho Africa Ltd. is a logistics supplier of Toyota Tsusho Corporation, which in turn is one of the worldwide Toyota Group Companies. The company was using VMware vCenter, and its system was supported (like UTSA) by both Windows and Linux environments. It gained similar systemic and financial improvements to those experienced by the University.
What was somewhat different about the circumstances for Toyota Tsusho was that it was planning a major overhaul to its infrastructure. It needed to renew its security and virtualization licenses for Symantec and VMware while also upgrading its physical machines. Due to the broad scope of the IT project, seeking out affordable options was a necessity. Furthermore, the company had several other core concerns, including more streamlined administration and performance optimization. Finally, the transition need to be rapid-fire so that day-to-day business operations would not be unduly affected.
Toyota Tsusho Africa decided to make the switch to Microsoft Windows Server 2012 with Hyper-V. The results were as follows:
According to Toyota Tsusho management, complete installment of new machines, deployment of virtualization, and configuration was conducted in just 22 days. The fast-paced migration had the added benefit of reduced labor costs.
By relying on one technology based on one operating system, the company will be able to scale both its IT department and the company as a whole painlessly, while also enabling a more productive workflow for employees.
The new solution puts less strain on the technological budget and will continue to keep costs manageable moving forward.
As noted in Forbes (in that case specifically with regards to the cloud), improvements in operational efficiency within an IT department allow businesses to shift more focus from infrastructural and operational costs into innovation. Toyota Tsusho is no exception.
Free Alternatives for Virtualization
If you want a free hypervisor alternative that is open source and Linux-based, KVM http://www.linux-kvm.org/page/Main_Page and XenServer http://www.xenserver.org/ are a couple of strong options.
Atlantic.Net offers virtualization of all three varieties: KVM, Xen, and Hyper-V.
By Kent Roberts; comic words by Kent Roberts and art by Leena Cruz.
---
Related Posts