Atlantic.Net announces Cloud Services Location in Ashburn, Virginia!
0 Comments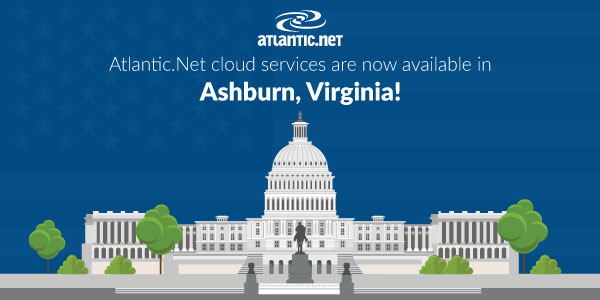 If you need the lowest latency and fastest routes to 70 percent of the world's web traffic, our new Ashburn, VA (USA-EAST-3) location is now available. This latest addition is located in the heart of the world's data center capital. You can now utilize our full suite of hosting services with the same power, speed, and reliability Atlantic.Net is known for in our Ashburn, VA (USA-EAST-3) location:
With the addition of our Ashburn Colocation Data Center location (USA-EAST-3), you can now utilize our services in seven data center locations including New York, London, Toronto, San Francisco, Dallas, Ashburn, and Orlando.
A sincere thank you to all our customers who have made this possible and continue to grow with us. Click here to read more about this announcement.
Get A Free To Use Cloud VPS
Free Tier Includes:
G3.2GB Cloud VPS Free to Use for One Year
50 GB of Block Storage Free to Use for One Year
50 GB of Snapshots Free to Use for One Year
---
Looking for a Hosting Solution?
We Provide Cloud, Dedicated, & Colocation.
Seven Global Data Center Locations.
Flexible Private, Public, & Hybrid Hosting.
24x7x365 Security, Support, & Monitoring.
Contact Us Now!
---
---
Recent Posts