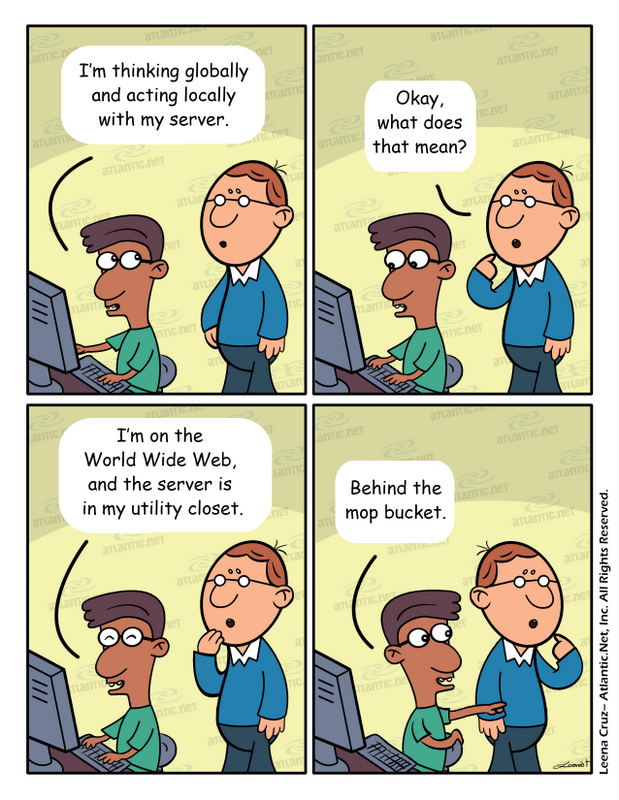 A typical question one of our customers asks us is, "What is your advantage over other cloud providers?" We know at Atlantic.Net that we are just one of many options for cloud hosting. There are numerous ways in which we set ourselves apart. Here are some of the hallmarks of the service that makes Atlantic.Net the best cloud hosting provider in the industry:
We give you your own kernel.
With our Cloud Hosting, every server created has its own kernel. In contrast, many providers offer their users a shared kernel, significantly reducing customers' control over their server environments.
We bill on a per-second basis.
Per-second billing is especially beneficial for large server deployments. However, per-second billing is an advantage to every customer. The cloud is incredibly elastic, which means that you have access to additional resources on a moment-by-moment basis. If you need additional resources beyond the limits of your plan, you bump up the parameters within your control panel.
What's important is how long that higher rate remains in effect. The second you start needing additional resources with us is the second you start paying at a higher rate. Based on the second you ramp your resources back down, you stop paying at the higher rate. In contrast, many cloud hosting providers charge per hour, so a higher rate would remain in effect throughout whatever hours they are needed.
We provide optional backup.
We back up your entire site, applications, and any other elements of your network.
We provide Windows servers.
Many cloud hosting providers only offer Linux servers, which doesn't meet the needs of many organizations. Now, to be clear, Linux is extraordinarily popular and is used by companies as large and powerful as Facebook, Google, and Amazon. However, some businesses want to use Microsoft for reasons such as the following:
integration with the broad spectrum of Microsoft applications;
ability to incorporate pages created via ASP and your database into FrontPage; and
resilient, high-performance SQL server databases.
We provide additional IP Addresses.
Sometimes businesses need more than one IP address, and we can accommodate them. A sample situation in which you might want to have an additional IP:
2 nameservers should have two different IP addresses, according to Request for Comments (an Internet Engineering Task Force publication);
the second IP can be used when installing SSL certificates
the second IP can also be used for IP-based hosting (hosting an additional site using the same cloud).
We have been in business for almost two decades.
When you look for affordable hosting, you may be afraid of doing business with fly-by-night companies. Atlantic.Net has been in business since 1994, with a long and impressive history of rapid growth and other accomplishments.
We provide other hosting solutions in addition to Cloud.
It's good to know that you can create a hybrid solution as needed. For example, you can use the cloud in combination with colocation or dedicated servers. You can also combine a cloud with managed services. You can even transfer your system from the public cloud to a private cloud, or vice versa.
We offer easy and highly secure server deletion.
If you need to take a server offline, you can delete a server with us in less than 10 seconds. We have tested other hosting providers in which it took about 17 minutes for the server to clear. Not only does that mean the task is completed more quickly, but you also aren't paying for the extra time.
Beyond time and money, your provider should have strong security practices concerning server deletions. Some hosting providers use outdated security protocols such as LVM (logical volume manager). Atlantic.Net has state-of-the-art security for server deletions that are clean and total.
We have competitive pricing.
Our reasonably-priced Cloud Servers start at only $0.00135 per hour.
We own and operate an SSAE 16 TYPE II certified data center.
Many hosting companies are not in control of the data center itself. We are. Furthermore, our facility has been professionally audited and is highly secure through stipulations set by the American Institute of Certified Public Accountants (AICPA).
We offer cPanel.
We previously covered why cPanel is such a great tool for those administrating a cloud hosting account. Here are a few highlights:
Prominent and familiar – Either cPanel or its integrated cousin WHM are used by almost 2/3 of hosting companies as of 2011.
User-friendly – It offers a feature-rich platform, controlled through an interface designed for ease of use. Modules can be added as needed.
Control – Because cPanel is widely used, it's easy to switch from one hosting provider to another. You don't get stuck in a single hosting company's proprietary software.
We provide 24/7/365 live support.
Have a question now about lightning-fast cloud servers or other hosting solutions. Contact us by phone, email, or live chat anytime.
By Kent Roberts
Atlantic.Net also offers HIPAA compliant hosting solutions; learn more about our HIPAA Data Centers.