Announcing New Data Centers in Dallas, Texas and Toronto, Canada
0 Comments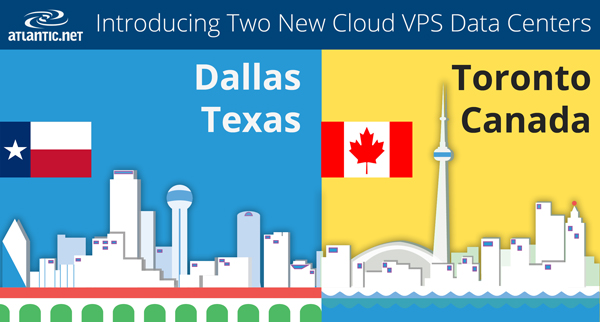 We are excited to announce not one, but two new locations for our SSD Cloud VPS customers! These new locations have the same features and pricing you are already used to, so launching a new server is fast and easy.
We'd like to thank you, our customers, for making this possible. As we continue to grow, we have many more surprises to share with you. Our goal is to delight and amaze you with the best Cloud VPS platform on the planet!
NEW! SSD Cloud VPS Hosting – Up in 30 Seconds!
Atlantic.Net is now offering an SSD based Cloud Platform to new and existing customers. The Enterprise SSD's (Solid State Drives) are up to 100 times faster than the previous storage solution provided to the company's customers. This provides Atlantic.Net's customers faster start-up time and greatly increased random read/write performance.
Atlantic.Net's Cloud VPS Hosting plans start at only $0.00135 per hour (equivalent to $0.99 per month), with usage calculated on a per second basis. All Cloud VPS plans include a minimum of 1TB outbound data transfer on every server. For more information, please visit our Cloud Hosting page.
This new environment represents Atlantic.Net's commitment to providing the latest and most stable virtualization technologies, Enterprise Solid State Drives, updated core networking, and new 32 and 64-bit Operating System images for Windows and Linux Cloud Hosting.
Get A Free To Use Cloud VPS
Free Tier Includes:
G3.2GB Cloud VPS Free to Use for One Year
50 GB of Block Storage Free to Use for One Year
50 GB of Snapshots Free to Use for One Year
---
Looking for a Hosting Solution?
We Provide Cloud, Dedicated, & Colocation.
Seven Global Data Center Locations.
Flexible Private, Public, & Hybrid Hosting.
24x7x365 Security, Support, & Monitoring.
Contact Us Now!
---
---
Recent Posts