Verified and Tested 03/31/2015
Introduction
This how-to will walk you through Install Active Directory Certificate Services Windows Server 2012
Active Directory Certificate Services or ADCS is a feature that provides certificates for user authentication. The purpose of this feature is to increase the security of the network by using the certificate that holds the users' information and Private keys assigned.
Prerequisites
– A Server with Windows Server 2012. If you need a server, you can get an affordable Windows VPS from Atlantic.Net.
Install Active Directory Certificate Services
Open the Server Manager from the taskbar.
From Server Manager Dashboard, select Add roles and features. This will launch the Roles and Features Wizard, allowing modifications to be performed on the Windows Server 2012 instance.
Note: If it's the first time you have entered this wizard, you will get a Before you Begin page. Review it, and you can check the Skip this page by default box,  then click Next.
Select Role-based or feature-based installation from the Installation Type screen and click Next.
You will now have the Select destination server page. Your server will be selected by default, so you can click Next to continue.
The Select Server Roles page appears. Select the Active Directory Certificate Services check box, and then click Next.
Click Next in the Features Screen/ click Next in the Active Directory Certificate Services Screen/ Select any additional Role in the Role Services(I selected all of them just in case I need them later down the road) and click next.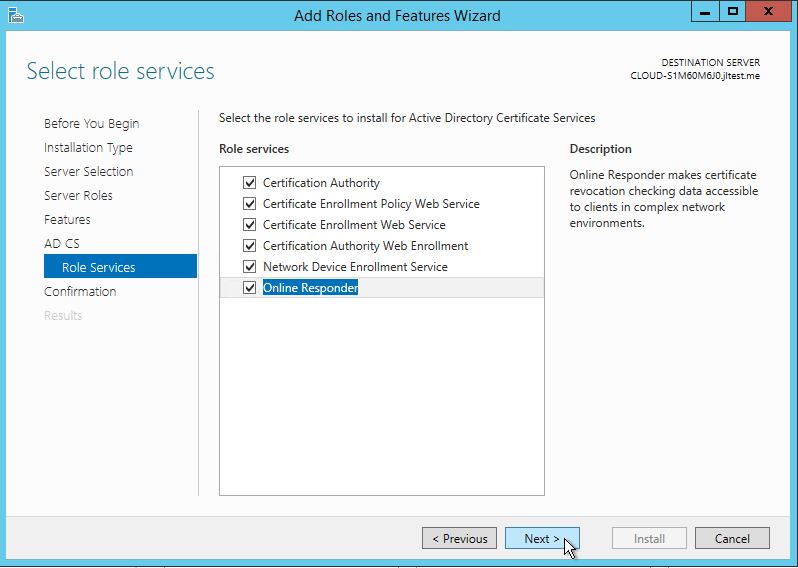 Confirm your Installation and click Install.
You can now see that the Active Directory Certificate Services role is currently installed in your Server Manager Screen.
Congratulations! You have just Installed Active Directory Certificate Services in Windows Server 2012. Thank you for following along in this How-To, and feel free to check back with us for any new updates.
Learn more about our VPS hosting services and VPS hosting price.