Affordable HIPAA Compliant Hosting Real World Scenario: LAMP Box in a HIPAA Compliant Platform
0 Comments
As healthcare organizations are well aware, it's necessary to make sure all technology meets the rules set forth in the Health Insurance Portability and Accountability Act (HIPAA). Providers, medical plans, and clearinghouses of EMR data are all considered covered entities under HIPAA, meaning they must be compliant or undergo hefty fines. Any covered entity has the option of working with a business associate, an outside organization that handles data and can be held responsible for certain aspects of compliance.
Because HIPAA compliance is a common IT concern in which we specialize, we regularly discuss its guidelines and related information in our blog, and we provide additional information and resources to educate our customers. We've also started publishing articles based on real-world dialogues between our hosting consultants and HIPAA clients. Below is a basic interaction concerning an affordable HIPAA solution, along with general discussion of LAMP for Cheapest HIPAA compliance.
Cheap HIPAA Compliant Hosting: cutting costs by using LAMP technology
Consultant: Tell us about your hosting needs.
Client: I need a LAMP box in a HIPAA Server platform to run a small website for pharmacists. 2 gigs of RAM will be plenty.
Consultant: Attached is the pricing proposal based on your requirements. The least amount of RAM we can provide is 4 GB, and the smallest hard drives are
500 GB. We have also attached a copy of our business associate's agreement (BAA) for your review. The equipment would be located in an SSAE-16 audited data center.
Our pricing is based on either a 12-month or 24-month term. These are the highlights of our proposal:
Fully Managed Hardware Firewall with 5 VPN's
Fully Managed Daily Backup for all files and databases
Linux Centos with LAMP Stack
4 GB of RAM
500 GB of Storage space set up in a RAID 1 configuration
10 TB of Monthly Data Transfer with a 1 Gbps Port
24 X 7 X 365 Live Technical Support by phone or email
100% Uptime SLA.
Client: The price seems reasonable. Is the data encrypted at rest?
Consultant: Yes, the data is encrypted both at rest and in motion. Regarding price, we try to present customers with the best cost possible based on what their HIPAA hosting requirements are. If you decide to move forward with what we have proposed, we will require answers to the following questions, along with the the term you want to select. If you have any other questions, please send them to us.
Full Company Name
Billing Address
Tax ID Number (if available)
State of Incorporation (if available)
Main Contact with phone number and email address
Billing Contact with phone number and email address
Technical Contact with phone number and email address.
Why LAMP represents a strong, affordable choice
A LAMP box is a platform appreciated by web developers for its efficiency, reliability, and stability. It's also a technology that can be simply integrated into an existing system.
A LAMP box is actually a stack or bundle of software, made up of four components: Linux, Apache, MySQL, and PHP. Each of the individual pieces of software can be replaced by alternatives as needed (such as Perl or Python in place of PHP). The entire stack is open source, and all of its elements are free as well, making it both fully customizable and cost-effective.
The 4 parts of LAMP:
Linux

– The world's most popular open source operating system, Linux comes in many different flavors (such as Ubuntu and Debian) and is itself a version of UNIX. It generally enhances efficiency and compatibility.

Apache

– This application is a Web server, meaning that it properly delivers your application over the web. Almost 2/3 of sites worldwide use Apache, according to the mobile app development company PLAVEB, primarily due to its stability. Along with PHP, Apache allows an application to be dynamic, increasing the ability of visitors to interact with your site.

MySQL

– This software organizes your data for storage. It can be used to create databases of various levels of sophistication, depending on the needs of the organization. It uses the SQL language, optimizing the system's ability to retrieve data accurately and quickly.

PHP

– This language is what really intertwines all the elements of a LAMP bundle in a meaningful way. It is the language in which the various dynamic aspects of your application are coded so that information from your MySQL database is immediately accessible.
Many developers prefer LAMP over alternatives for three primary reasons:
It's free, and you have full control;
Coding is fast and predictable because the likelihood of bugs is reduced; and
Deployment doesn't present a compatibility challenge because PHP is a pre-set module within Apache.
A LAMP HIPAA Cloud Server offers a stable and affordable option as a platform for your healthcare company. However, your specific needs may be different. Atlantic.net customizes HIPAA Compliant Hosting, made-to-order for your organization.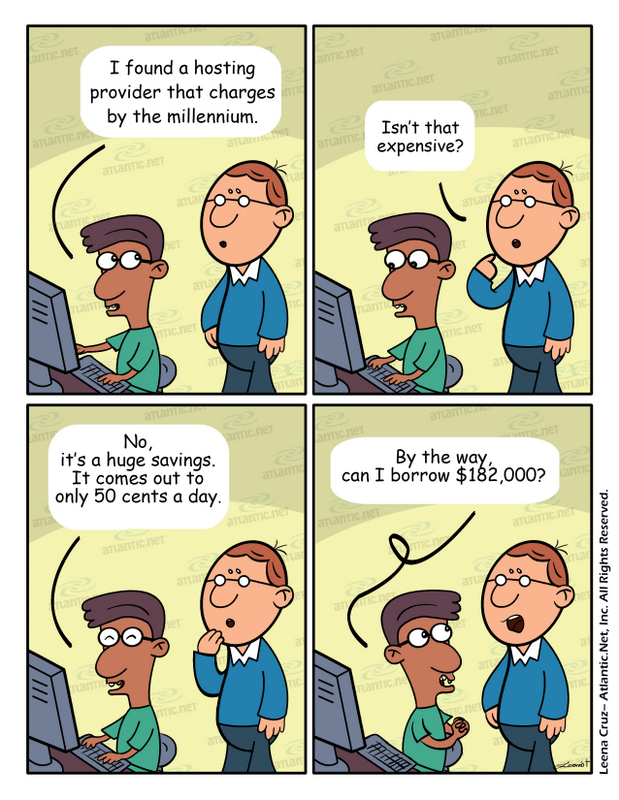 Comic words by Kent Roberts & art by Leena Cruz.
Start Your HIPAA Project with a Free Fully Audited HIPAA Platform Trial!
HIPAA Compliant Compute & Storage, Encrypted VPN, Security Firewall, BAA, Offsite Backups, Disaster Recovery, & More!
Start My Free Trial
---
Looking for HIPAA Compliant Hosting?
We Can Help with a Free Assessment.
IT Architecture Design, Security, & Guidance.
Flexible Private, Public, & Hybrid Hosting.
24x7x365 Security, Support, & Monitoring.
Contact Us Now!
---
---
Case Studies
White Papers
Resources
---
---
Recent Posts