The speed and agility of cloud-based web hosting have changed the playing field in many industries, expanding the possibilities of technological applications. One obvious example is medical research. Phys.org reports that the growing cloud server hosting option is being used in genetic profiling research to allow for much faster and less costly analysis of DNA sequences. Wu Feng, a computer scientist at Virginia Tech, notes that data analysis generally has become more sophisticated because of the speed and scope of the cloud.
Businesses are slowly beginning to grasp the vast potential of the cloud and how it might be applied for a competitive advantage in their industry. In a completely different corner from medical research, freight software and technology company Integrated Visual Data Technology, Inc. recently approached us about a cloud-based solution for their business. Let's explore the nature of the business and how our hosting solution was effective.
Weight analysis & employee monitoring
Integrated Visual Data creates software and devices that log weight and other usage data for various freight-handling trucks: pallet trucks, lift trucks, and various kinds of tilt and level indicators. The machines allow information about the usage of the trucks to be monitored by operators and stored and accessed by management.
Weight data is helpful for general operational analysis and record-keeping, but the systems created by IVDT are useful in a completely different way. The company has an additional feature that can be added to any of its equipment as desired: an alert system for "rough vehicle handling."  This system notifies management of the following parameters related to each lift truck:
excessive speed
overloads
extended periods of idling
windows during which the truck is underused
integration with scheduled break time.
In fact, Integrated Visual Data's customers can add whatever parameters they want to capture and analyze. The company customizes the software so that individual business needs are met.
SkidWeigh is the general umbrella name for IVDT's product offerings. The system is based on an organized system of modules, which are basically packaged chunks of code that are easily moved in or out of a system (similar to a desktop application on a PC). Building the system based on modules makes tailoring the technology simple, and it also makes operating the system friendlier to the end-user.
The SkidWeigh system is also apparently unique. According to Integrated Visual Data, its devices are the only ones that show the user of freight equipment a slew of information related to the material handling on a moment-by-moment basis. That same breadth and detail of information, plus additional analysis and notifications, is accessible to management. This feature allows those in supervisory positions to monitor forklift utilization at a distance, alerted of any problems in real-time.
Crafting a cloud server hosting solution
Integrated Visual Data contacted us in December to help make its data delivery more efficient and cost-effective. They wanted to use a cloud server to upload data from the forklift onboard weighing systems. Using the cloud would allow the end-user to access the data much more quickly. It also would allow real-time analysis to get more complex because slow load times (i.e., high latency) are much less of an issue with the cloud. Management would have access to all weight and usage information – including rough handling details – in real-time.
IVDT asked for our input so that we could customize a solution based on the parameters they described. Integrated Visual Data has over 200 different algorithms for its technology, and it customizes its software regularly for customers. Our business has a similar approach to clients. We have a wide range of hosting plans with pre-established parameters, but we can also tailor infrastructures. In other words, it was a synergistic partnership because the two organizations held similarly adaptive philosophies.
Public cloud vs. private cloud
Cloud technology is itself highly adaptable. However, when businesses use cloud computing solutions – with what's often thought of as "the cloud" – they are taking advantage of the public cloud. Just as traditional cloud servers are sections of one physical machine, the virtual machines of the cloud are made up of multiple sections of a variety of physical machines. In that scenario, many different businesses share the same servers, with the cloud technology keeping all of the server requests organized and distinct.
Integrated Visual Data, due to the sensitive nature of its data, needed its own private cloud. The company required its own firewall and virtual private networks (VPNs). They wanted managed hosting services so that our team of security and efficiency experts could monitor their system and keep it running smoothly. The best option was a private virtual machine (VM), connecting multiple physical servers with cloud technology so that data computation and analysis could be as fast and complex as possible.
IVDT is just one of the many companies that Atlantic.Net assists with custom private cloud hosting solutions every day.   At Atlantic.Net, we have been in business for 20 years and continue to grow because our technological focus is matched only by our customer focus. We also offer managed, dedicated hosting and VPS hosting solutions. Contact us today!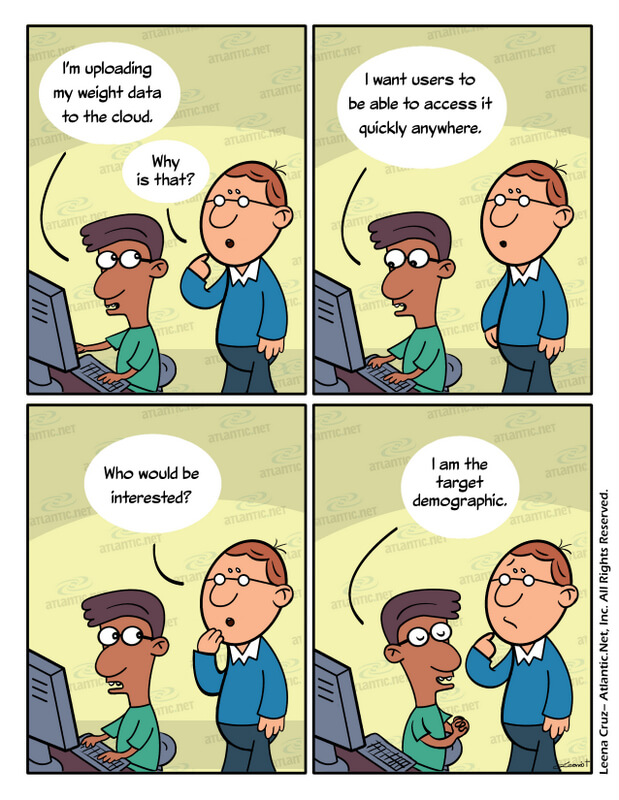 By Kent Roberts; comic words by Kent Roberts & art by Leena Cruz.