This article in the "How VPNs Work" series describes how a shared key exchange works. If you're already lost, don't panic! This series of articles explains the concepts and methods behind VPNs without requiring a deep dive into the mathematics that powers them.
If you're entirely new to the concept of VPNs, check out this introduction. If you already know a little about how VPNs work and want to know a little more, this series is for you. Each article addresses one aspect of how a VPN helps secure data by telling a story that serves as a metaphor for the logical mechanisms involved. These stories involve Adam and Burt trying to keep a secret and a third person, Cesar, trying to discover their secret nefariously. Since VPNs have no perfect physical world equivalent, some elements may stretch the bounds of credibility (for example, Cesar has access to a duplicator ray). Remember, it's just a story…
Each article also has expandable sections (indicated with the gear icon), which contain a slightly more in-depth explanation that is somewhat more technical but still avoids getting too lost in mathematics. These sections tie the story's events a little more to the components or steps of encryption or authentication but are not required to get a basic understanding of the topic.
Shared Key Exchange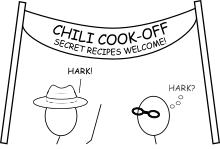 In earlier adventures, our friends Adam and Burt have tried to keep their comic book project secret from Cesar's snooping by securing the messages they exchange with a shared key and a more elaborate public-/private-key pair system. Each system has its strengths and weaknesses. But the boys need a break from this project, and lucky for them, there's a fair going on nearby. They enter the chili cook-off, and because they love keeping their creations secret, they devise a way of keeping their recipe secret, even as they prepare it in front of onlookers. The recipe will be so secure; even they won't know it!
A Well-Known Starting Point
To pull this feat off, Adam and Burt will each need to develop a portion of the recipe without knowing anything about what the other has contributed. If neither of them knows the whole recipe, neither can reveal it. However, they agree on a common base of ingredients (a mixture of tomato base, chili seasoning, beef, and beans). There's no need to keep this part secret–most of the other contestants start with a similar base, so they gain little in spending the effort to obscure these ingredients.
Seeding the Key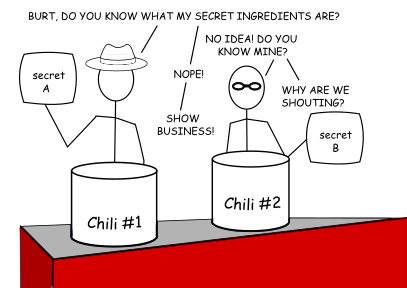 Adam and Burt have independently and secretly prepared a portion of seasoning and additional ingredients sealed in an opaque, rice-paper pouch that will dissolve once immersed in the chili. In this cook-off, Adam's pouch contains tomatillos, chipotles, cayenne pepper, and cinnamon; Burt's has Cajun seasoning, beer, cumin, oregano, and Worcester sauce*. Adam tosses his packet into his pot and stirs, tasting his chili until he is sure the pouch has dissolved and released its ingredients. Burt does the same with his pot. At this point, Adam and Burt have two different chilis.
* (in case you are wondering why this isn't already dissolving from the beer, let's say that Burt has pre-frozen any liquids before placing them in the dissolvable pouch.)
Completing the Exchange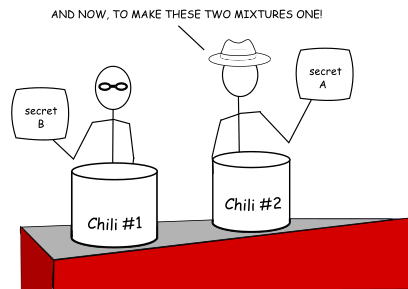 Now they switch the pots they are tending to, so Burt is at the pot Adam started, and vice versa. They each take another pouch identical to the one they started with and add this second pouch to the pot that the other had started (so Adam adds his tomatillos, chipotles, cayenne pepper, and cinnamon to the pot Burt started with the Cajun seasoning, beer, cumin, oregano, and Worcester sauce; and Burt adds his pouch to the pot Adam started). After each of them stirs their respective pots and dissolves the pouches to release the secret ingredients, they can be sure that each pot now contains identical chilis.
Complex Tastes
During the preparation, any judges could have seen and sampled from the starting pots or the intermediate pots. Even if Cesar, intent on learning the secret recipe, poses as a judge, he wouldn't be able to reliably reconstruct the final recipe Adam and Burt used. (This example assumes that Cesar doesn't have the ability to distinguish all the individual flavors included in the chili. To attempt to identify the ingredients and their amounts via laboratory analysis would be expensive enough in time and energy invested in making it infeasible.)
More in the How VPNs Work Series:
Part 1: Symmetrical Encryption Algorithms
Part 2: Public Key Cryptography
Learn more about our VPS hosting services and VPS hosting price.