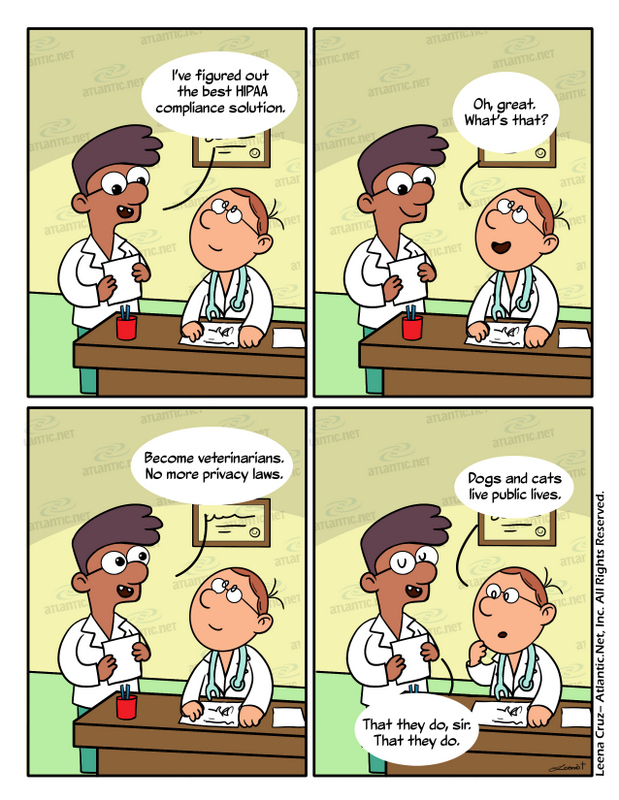 Various marketing sites argue for the power of "customer-sourced content," suggesting that individual remarks and questions can create great material for other users. After all, the details of a situation may be unique, but the general concerns tend to be shared by others, at least those within the same industry.
CopyPress outlines various instances in which companies have turned social media posts and comments from Facebook and Twitter into promotional opportunities. Similarly, the Online Marketing Institute (OMI) discusses various strategies to incorporate customer service questions into general site information.
In the same vein, several months ago, we formed a stronger partnership between our marketing and customer support teams to create our Real World Scenario series. The premise behind this new Atlantic.Net content brand is simple: review the chats and emails between our hosting consultants and clients to find situations that could be of interest to our broad user base.
The below installment highlights a consultant/client interaction focused on HIPAA (Health Insurance Portability and Accountability Act of 1996) compliant hosting for legal documents related to healthcare.
Quote for Healthcare IT Startup
Client: We are a startup working on digitizing advanced directive planning and completion. We plan to pitch our idea to [omitted] Hospital in a couple of weeks, but our initial meetings with them indicate a high probability that they will fund our venture.
We were hoping you could provide a quote for HIPAA compliant hosting. We would need storage for approximately 20,000 advanced directives and durable power of attorney documents. The database would have to be accessible at will by hospital employees as well.
Please let me know what additional details you require.
Consultant: Thank you for contacting Atlantic.Net. We need answers to the following questions to provide you with a proposal:
Do you require a Linux or Windows hosting environment?
How much total storage space do you require for the documents? In other words, what is the byte size of the 20,000 documents you need secured/stored?
Client: Thank You.
We prefer Linux, but the hospital employees with direct access to the database will probably need a Windows client.
We need 100GB of space.
Consultant: Thank you for your response. Attached you will find the formal proposal for the smallest HIPAA compliant hosting platform that we offer. There are 3 different pricing options, listed from most to least expensive per month:
month-to-month
12-month term
24-month term.
The following supporting documents are also attached:
Fully Managed Hardware Firewall
Encrypted VPN's
Intrusion Detection System (IDS)
Business Associate Agreement (BAA).
These are the highlights of the proposal:
Linux CentOS 6.X 64 Bit or Windows Standard 2008 R2 or Windows Standard 2012 R2
Dual-Core Processor / 4 GB of RAM / 160 GB of RAIDed Storage
Fully Managed Hardware Firewall
( 5 ) Managed VPN's
Fully Managed Daily Backup
Intrusion Detection System (IDS) with Log Management / Log Monitoring
24 x 7 x 365 Live Technical Support (Phone & Email)
100% Uptime Service Level Agreement (SLA)
10 TB of Monthly Data Transfer with a 100 Mbps Port.
Please let us know if you have any questions concerning the HIPAA Hosting Solutions proposal, as presented in the attached file and supporting documents.
Client: Just a little bit of advice, if you could provide it. Do you believe we will need to hire a database administrator, even if just part-time, in addition to the services you provide? We expect very few changes to the files in the database after they are initially created.
Also, what would the costs be if we were to double the storage and number of client licenses? We plan to expand to other hospital networks, so twice the figure would give us an idea of how our costs will scale.
Consultant: Hello again. Unfortunately, because we do not provide Database Administration (DBA) services, we do not feel comfortable answering your question concerning the database.
Below are the extra monthly charges you requested:
You can add an extra 10 VPNs for $ XX per month. That is the minimum we can add, and it will increase the total number of VPNs to 15.
The next step up in storage is 500 GB. It will increase the monthly pricing as follows, dependent on the length of the agreement:
month-to-month: $ XX per month
12-month contract: $ XX per month
24-month contract: $ XX per month.
Client: Great. We hope to have a decision from the hospital in June, and I will be in touch once they get back to us.
Conclusion
As you can see in the above discussion, Atlantic.Net can meet the needs of those seeking secure healthcare solutions. We have been in business since 1994, winning numerous service and growth awards from organizations including Inc. and Entrepreneur.  Our expert engineers and consultants have been designing and deploying fully customizable HIPAA Compliant Hosting systems for over 5 years, along with many other popular options like VPS Hosting.