Secure Block Storage (SBS) 50 GB Free for One Year!
0 Comments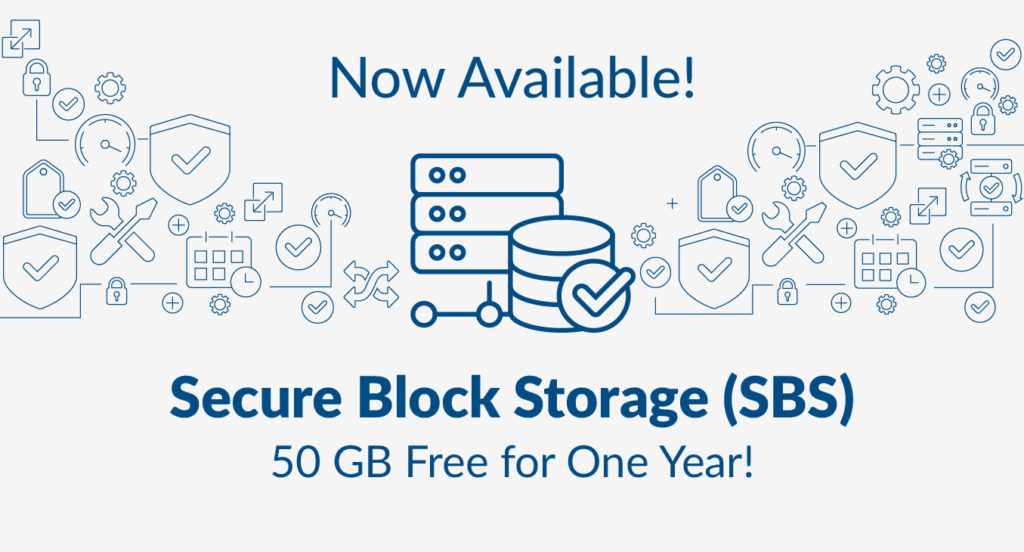 Secure Block Storage – Easy to use, highly redundant, available, scalable, and secure additional storage.
We are excited to announce the release of Secure Block Storage, enabling you to easily attach additional storage to your cloud servers to scale workloads more easily.  Designed for 99.999% availability, SBS volumes are automatically replicated multiple times to protect your data from component failure. With SBS, storage can be increased on-the-fly and moved between your Cloud Servers within the same region. Additionally, SBS volumes are automatically encrypted at rest and connected to your Cloud Servers over an isolated storage network to ensure a secure environment for your data.  To help you get started using SBS, we are offering 50 GB of SBS free through June 14, 2019, for existing customers and one year from the date of signup for new customers. You can increase the space of SBS volumes for an additional 7.9 cents per GB per month.
"Combining the capacity of enterprise hard drives with NVMe SSD drives, SBS offers the perfect balance of capacity and performance for any customer's storage needs – including HIPAA storage. Here at Atlantic.Net, we remain steadfast in our commitment to providing our customers with cutting-edge tools at cost-effective prices," said Marty Puranik, CEO, and President of Atlantic.Net. "Rolling out our SBS system at up to 11x the performance of the competition solidifies us as the price and performance leader for the most popular storage tier. Now, users have complete control they have been asking for to build and scale their larger applications and storage needs, with automatic encryption and a simple pricing model. "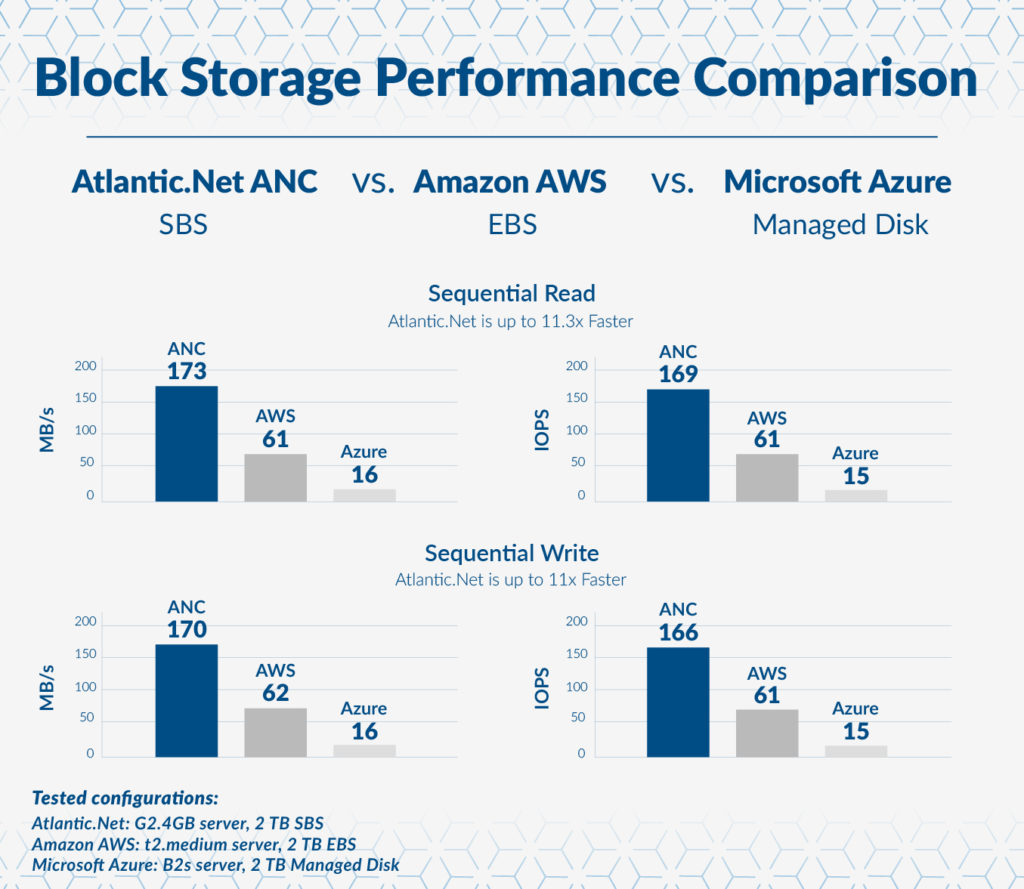 SBS is ideal for running mission-critical applications that require robust and scalable block storage, as well as for running queries on databases that require low latency and high performance.
Following the release of SBS, we plan to roll out object storage and SBS-based snapshots, backup, and off-site replication in the coming months.
For more information on SBS, please visit www.atlantic.net/cloud-hosting/block-storage/
Start Your HIPAA Project with a Free Fully Audited HIPAA Platform Trial!
HIPAA Compliant Compute & Storage, Encrypted VPN, Security Firewall, BAA, Offsite Backups, Disaster Recovery, & More!
Start My Free Trial
---
Looking for HIPAA Compliant Hosting?
We Can Help with a Free Assessment.
IT Architecture Design, Security, & Guidance.
Flexible Private, Public, & Hybrid Hosting.
24x7x365 Security, Support, & Monitoring.
Contact Us Now!
---
---
Case Studies
White Papers
Resources
---
---
Recent Posts
How to Install Python 3.10 on Rocky Linux 8
How to Install TaskBoard on Rocky Linux 8
How to Set Up Pritunl VPN Server on Rocky Linux 8
How to Install Teampass Password Manager on Rocky Linux 8
How to Install and Configure RabbitMQ Server on Rocky Linux 8