Verified and Tested 02/03/15
Introduction
This How-To document will demonstrate how easy it is to get started with your first server. It will function as a full signup guide/explanation and ends with how to access the newly-created server.
Prerequisites
A valid email address.
A modern internet browser.
A valid credit or debit card (prepaid cards are not accepted during the signup process, but can be used after the after the successful payment of your first invoice).
Getting started with Atlantic.Net Cloud Services
Creating your first server with Atlantic.net is easy! If you are a new customer, you will want to follow this short guide on setting up a new account. For returning customers who have an account with us but no current active servers, you can view this page on creating a new cloud server –https://www.atlantic.net/cloud-hosting/how-to-create-new-atlantic-net-cloud-server/. There is no need to sign up with another account to create a new server if you already have an account with us.
1. The first step to creating a cloud server with Atlantic.Net would be to complete the signup process. You can begin that here: https://cloud.atlantic.net/signup
This process will ask you for your email address that the account will be under and your password for the new account. Once done, you will be re-directed to a page like below and instructed to check your email for a link.

Check your email
2. You will receive an automated verification email from our system. This email will come from "cloudsupport@atlantic.net" and have a subject line of "Please Verify Your Email Address." If you do not receive the email after a few minutes, you will want to check any spam or junk folders/filters to see if it has been blocked. If necessary, you can contact our support department to assist you with completing the signup process.
There will be a link in this email that takes you to the final stage of signup. On this page, you will need to enter in the billing information for the account. Having as much information and as much accuracy as possible will help to speed up the account verification process. For payment type, we accept all major credit cards and debit cards (prepaid cards are not accepted during the signup process, but can be used after the after the successful payment of your first invoice). At the moment we do not accept PayPal or similar services, but this may be an option in the future. Take a moment to read our Terms of Service before hitting "Complete Registration." The ToS can be found here: https://cloud.atlantic.net/?page=termsofuse. The page will look like the below.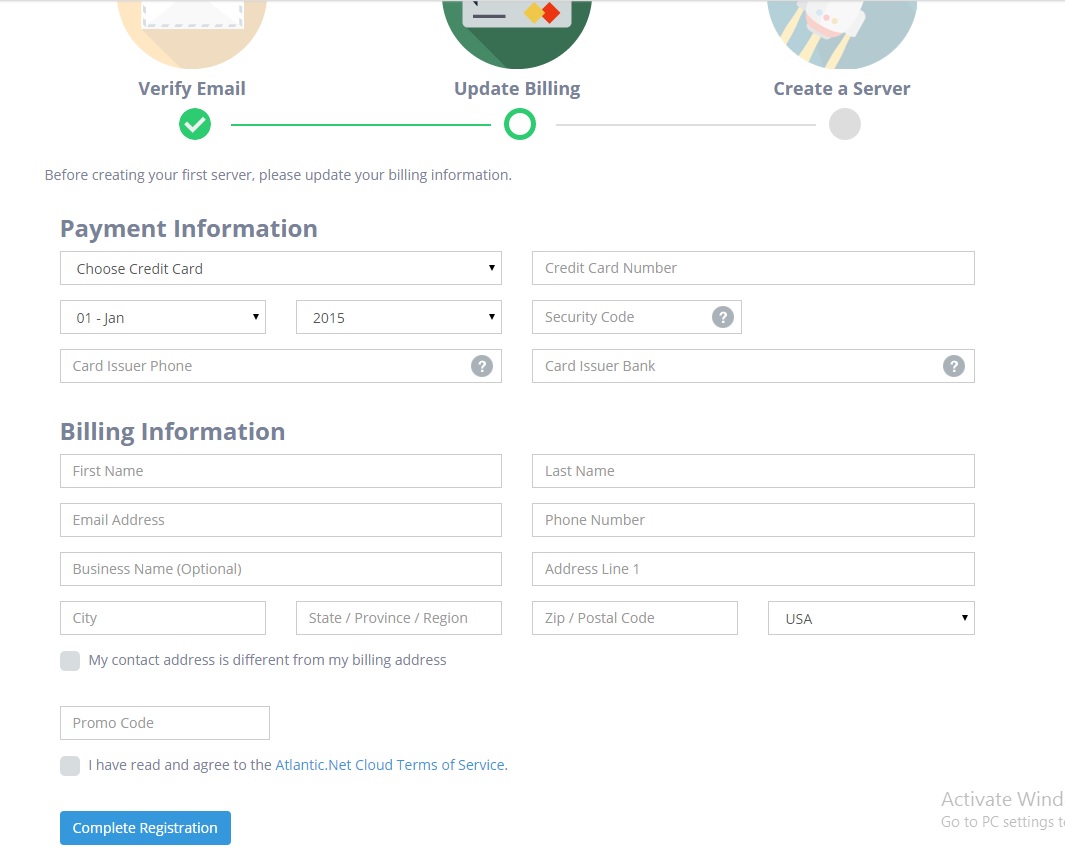 Billing Information
3. Once completely filled out, click on "Complete Registration" to finish your registration. When your registration is complete, our automated system will work to verify the account. If all information provided is accurate, the credit card used is valid, and there are no issues with the signup, it will be approved. In cases where our system is unable to verify the account automatically, you may receive a telephone call to the phone number entered in either the signup or billing information. Our account verification team will work with you to make sure that the information provided is accurate. After this brief call, the account can then be verified. If the information provided is incorrect/mismatched, or we are unable to contact you by phone, our team may need to send an email to the email address provided during signup requesting further information. This may include: a photo of your passport, a photo of your driver's license, or a photo/scan of your most recent credit card statement or bill with any information you do not want to release blacked out. This is necessary so that we can match the information provided to a real account or a real person. We do this to help prevent misuse of our network and servers and to maintain the highest quality of service for all customers.
-Our automated system may place a holding charge on the credit card used during signup. This is a temporary charge and will disappear from the card after about 3 business days. You can always contact our billing department if the charge has not yet disappeared in a reasonable amount of time. They can be reached at cloudbilling@atlantic.net
5. You can now create a server. You may log into the Cloud Portal, https://cloud.atlantic.net, to start this process. If you are unfamiliar with it, you may view this link here: https://www.atlantic.net/community/
6. When you have completed creating a server, you will receive an email with the login information required to access the server. This email will also be from cloudsupport@atlantic.net. Its subject line will include your server's friendly name, its unique server ID (provide this during any interaction with our support team to help decrease troubleshooting time needed), and its IP address. The body will contain further information about the server including its root/administrator username and password. You will want to keep this email for your records at least until you are able to access the server and update the password to one unique for you.
-There are two ways you can access your server. For Windows servers, you would primarily want to use Remote Desktop to connect to the server. Remote Desktop comes with all versions of Windows. You can find a guide on its usage here: http://windows.microsoft.com/en-us/windows/connect-using-remote-desktop-connection
For Linux servers, the tool to use would be SSH. The most popular application for SSH on Windows is PuTTY which can be found here: http://www.chiark.greenend.org.uk
Your alternative, if those are unavailable or non-functional, is to use our built-in VNC client.
Please see here for more information on its usage: https://www.atlantic.net/hipaa-compliant-hosting/how-to-using-vnc-access-cloud-server/
7. At this point, the signup process is complete. Your new server begins adding to your bill at the hourly rate the moment it is provisioned. You can have multiple cloud servers under a single account. Creating and deleting servers is something you can do at any time from our cloud control panel: https://cloud.atlantic.net/
You can view these two knowledgebase articles to learn more:
https://www.atlantic.net/vps-hosting/how-to-delete-atlantic-net-cloud-server/
https://www.atlantic.net/cloud-hosting/how-to-create-new-atlantic-net-cloud-server/
8. If you require further clarification or assistance at any point in this process, do not hesitate to contact our support department by email at cloudsupport@atlantic.net, by phone at 1.800.540.4686, or by chat on our main page (click the "Live Chat" link at the top of the page).