Introduction
This tutorial will show you how to create a Cloud Server through the Atlantic.Net Cloud admin portal.
How to Create a New Cloud Server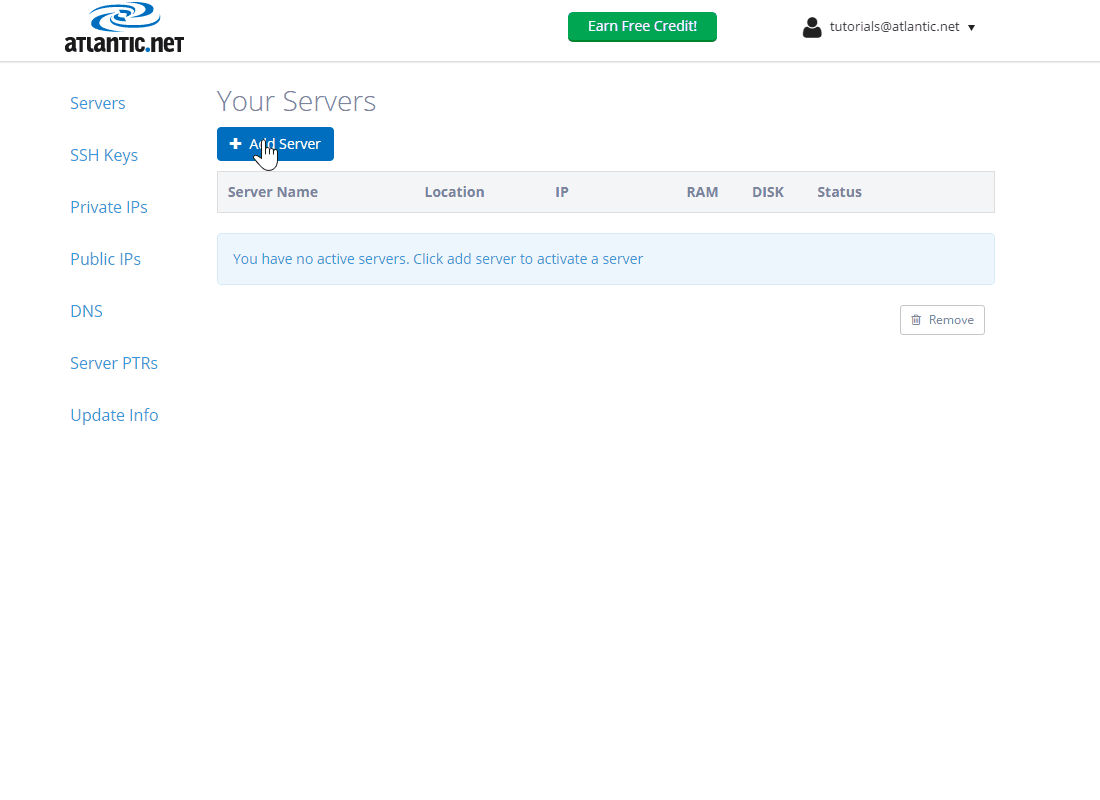 1.  Sign in to cloud.atlantic.net.
2.  Click the "Add Server" button.
On the initial "Add a Server" page, you will see a few options:
3.  Enter what you would like your server's name to be in the "Server Name."
4.  Click on the data center you would like your Cloud Server to be located under "Location."
5.  Select the type of server you would like under "Type." Under the first tab, "Operating Systems," there are vanilla versions of popular operating systems. Under the second tab, "Applications," are the servers that come with popular applications, like WordPress, cPanel, and LAMP, already pre-installed.
Note: When selecting anything under "Applications," this overwrites any OS you may have chosen on the Operation Systems page. Please note that cPanel does come at an extra cost found on our VPS hosting pricing page.
6.  Select what plan size you want under "Plan."
Note: The plans do change depending on the OS you have chosen. All available plans will be provided as well as the specifications and their pricing.
7.  Choose whether to enable backups for your new Cloud Server. Check the box next to "Enable Backups" if you would like to have daily snapshots of your server taken. Visit our VPS Hosting page for pricing and details.
8.  Finish creating your server by clicking the "Create Server" button.  It will take a few moments for your server to build. The credentials will be displayed at the top of the page in green and will also be emailed to you. After this, the server will be listed as 'PROVISIONED,' and you will be able to access it via Remote Desktop Connection, SSH, or VNC using the credentials highlighted at the top of the page.
Note: Atlantic.Net does not keep your credentials on file, so please be sure to keep this information recorded for your convenience.
---
Contacting Atlantic.Net Support
If the above step-by-step directions do not assist you in completing your task or an issue arises while following these steps, please feel free to contact our Support Department at 800.540.4686 (option 3) or email us directly at cloudsupport@atlantic.net. If you need assistance setting-up a dedicated hosting account, check out our dedicated server hosting page.