Atlantic.Net Now Accepts PayPal Payments
0 Comments
PayPal payments are now accepted for all Atlantic.Net services and solutions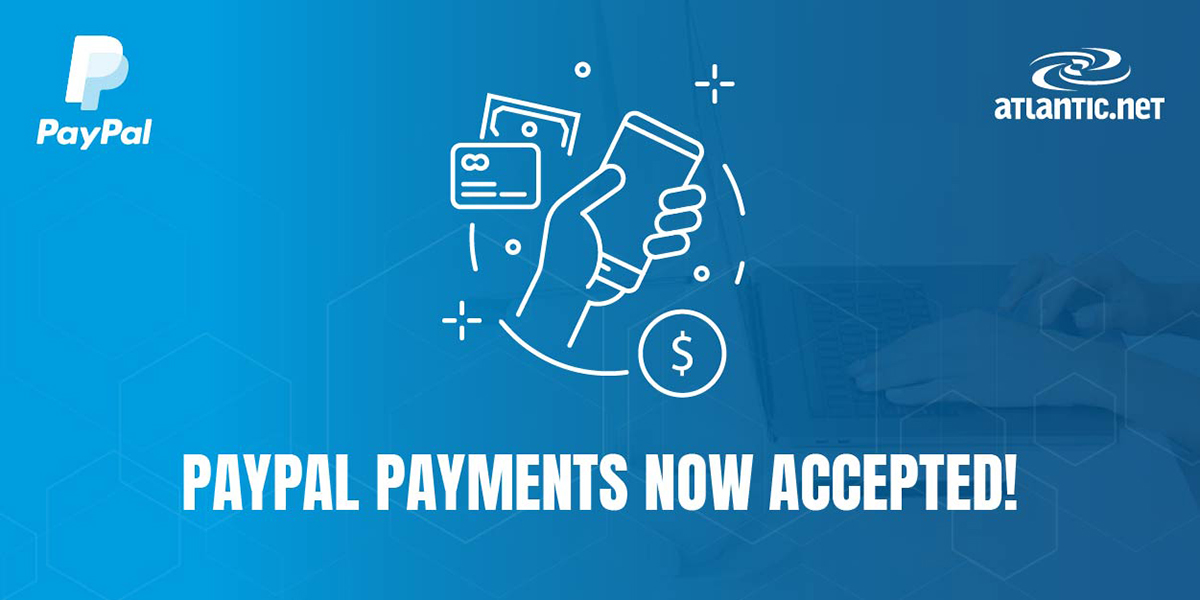 Today we began accepting PayPal payments for all our services and solutions. PayPal is an online payments system with 305 million active customers across most countries. It serves as an electronic alternative to traditional payment methods like checks, money orders, and credit/debit cards by allowing people to transfer funds electronically between individuals and businesses directly from their PayPal account. This presents a significant opportunity to increase our revenues by opening our services up to clients that do not wish to use a credit or debit card or prefer to pay in advance for their services.
"Based on feedback we have received and to better serve an ever-growing customer base, we are introducing the ability for our customers to pay with PayPal. As we continue to expand our business and footprint internationally, PayPal payments will help further accelerate our growth in all markets," said Marty Puranik, CEO and Founder of Atlantic.Net. "Having an additional payment option for our customers is particularly important as we plan to introduce additional international cloud locations to the market."
To learn more about making payments for your Atlantic.Net Cloud services, please visit: https://www.atlantic.net/community/howto/paying-with-paypal/
Get A Free To Use Cloud VPS
Free Tier Includes:
G3.2GB Cloud VPS Free to Use for One Year
50 GB of Block Storage Free to Use for One Year
50 GB of Snapshots Free to Use for One Year
---
Looking for a Hosting Solution?
We Provide Cloud, Dedicated, & Colocation.
Seven Global Data Center Locations.
Flexible Private, Public, & Hybrid Hosting.
24x7x365 Security, Support, & Monitoring.
Contact Us Now!
---
---
Recent Posts
How to Install and Use Composer on Oracle Linux 8
How to Install Sails.js Framework with Nginx as a Reverse Proxy on Oracle Linux 8
Are Data Breaches In The Cloud Getting Better Or Worse?
How to setup HTTP Strict Transport Security (HSTS) for Apache on Oracle Linux 8
How to Install Kanban Kanboard on Oracle Linux 8