The vCenter Server (VC) is a licensed product that allows you to configure, deploy, and manage the entire virtual machine lifecycle from a centralized location. It is used to manage multiple ESXi hosts. itself is a virtual machine, deployed during the installation of vSphere. It is available as an appliance (vCSA) or as an installer for a Windows Server instance.
Each virtual environment requires at least 1 vCenter server. Once installed, vCenter can be accessed via a web GUI and can manage the entire connected virtualized estate. It is used to simplify management of VMs, complete daily admin tasks, and complete virtualized infrastructure management. vCenter provides access to all the connected clusters, hosts, networking, and storage from one easy-to-manage web interface. For a developer, VMware PowerCLI can be used to automate management of vSphere.

VMware vCloud
The VMware vCloud suite is a software-defined datacenter solution based on a vSphere private cloud implementation. It has evolved from vSphere due to the changing demands of Cloud / IT managed service providers. It offers a full cloud solution with datacenter virtualization, automated operations (vRealize), high availability, resilient infrastructure, and, more recently, infrastructure delivery automation (vSAN / NSX).
VMware vCloud includes several key features. It uses vSphere for computing and vRealize Automation for a policy-defined compute automation, for example, creating a policy-driven automated host deployment. vRealize Operations manager is also included; this is a capacity management suite and licensing manager used to monitor the entire virtual infrastructure and predict future capacity requirements.
A typical vCloud Cloud Management setup consists of at least 2 sites. Each site is connected by a dark fiber, and each has multiple hosts and replicated storage. vCloud includes the VMware vCenter Site Recovery Manager (SRM), a high availability disaster recovery solution which replicates data between sites. In the event of a disaster, SRM will use predefined policies to failover servers and services from Site A to Site B. It is an automated process and enables managed service providers to offer 99.99% (always online) uptime capability.

VMware Hyper Converged Infrastructure (HCI)
A more recent trend of VMware has been to virtualize more hardware-based datacenter features into its products. Since the release of vSphere 5.0 in 2014, VMware has offered 2 products aimed at virtualizing the storage and network fabrics of a datacenter. Traditionally, datacenters would consist of several ESXi hosts, various storage devices (SAN) and associated SAN Switches, as well as the network infrastructure layer. VMware vSAN and VMware NSX provide a storage virtualization layer and a network virtualization layer in what VMware calls a hyper-converged infrastructure.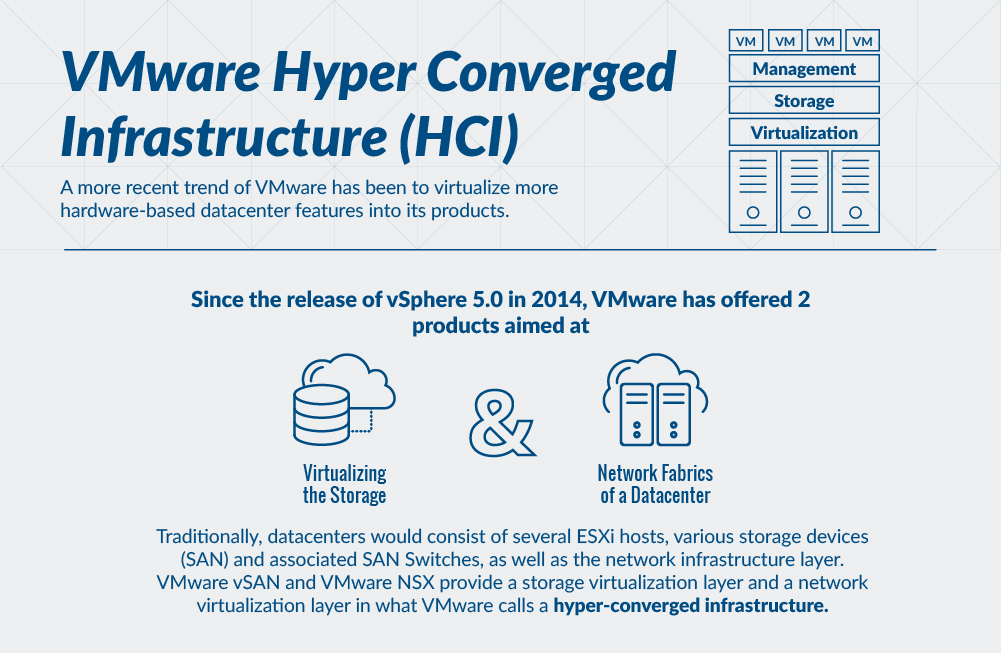 vSAN is a software-defined enterprise-class storage solution. vSAN can use any typical server storage as part of a larger virtual storage device. vSAN then applies deduplication and compression to the data to minimize the VM footprint, which in turn can provide better performance than traditional storage infrastructure can. There is no need for a dedicated storage SME, as all policy creation and storage management is done in vCenter. vSAN can be scaled up simply by adding more storage to the provisioned vSAN Hosts.
VMware have also recently introduced NSX, which provides virtualization of the entire network fabric. It provides a secure, agile virtual network which is managed by vCenter. NSX can virtualize the role of any firewall, switch, router or load balancer. Network policies can be applied per server, allowing you to isolate infrastructure to different parts of the network, thus improving overall network security. NSX network templates can be deployed instantly, enabling professionals to build network infrastructure from their workspace in a few clicks.

VMware Desktop Products
The software discussed so far is typically used for datacenter-based infrastructure services, but VMware also has a large presence in the desktop workspace. VMware was founded on the success of VMware Workstation, which allows any Windows or Linux-based computer to run virtual machines. Also, VMware Horizon is the VMware virtual desktop environment (VDI), which allows desktop and applications to be delivered directly to the user on any type of workstation. This is commonly used within organizations to provide employees access to a centralized and identity-controlled application stack.

VMware Cloud Management Services
The VMware cloud is the offering from VMware for cloud-based infrastructure services. It is heavily integrated with Amazon Web Services (AWS) and offers the user a cloud-based service of many of the popular VMware applications discussed here. This eliminates the requirement for local datacenter services and the cost associated with it, and enables many individuals or companies to leverage VMware products for their personal use. Many businesses are moving toward the cloud as part of their future IT strategy.
Ready to Get Started with VMware Hosting?
Atlantic.Net's VMware private cloud solution offers dedicated single-tenanted software in our top-of-the-line data centers. Take advantage of our expert technical support and highly available infrastructure today - learn how to sign up for VMware Hosting.