There are three common ways to organize and store data on modern enterprise storage devices – File Level, Object Level and Block Level. Block Level Storage refers specifically to saving data in volumes called blocks. Block storage is when a raw volume of data storage is presented to a server, usually from a storage attached network (SAN), and each volume block can function as an individual hard drive or storage repository.
Block storage can be presented to any operating system as a mounted drive volume. A storage consultant can allocate almost any size of data volume to a server. The end user will simply see this as a mapped drive or a local hard drive on the server's operating system. The server operating systems can access the storage blocks over high-speed Fiber Channel or iSCSI connectivity options, according to ENTERPRISEstorageFORUM.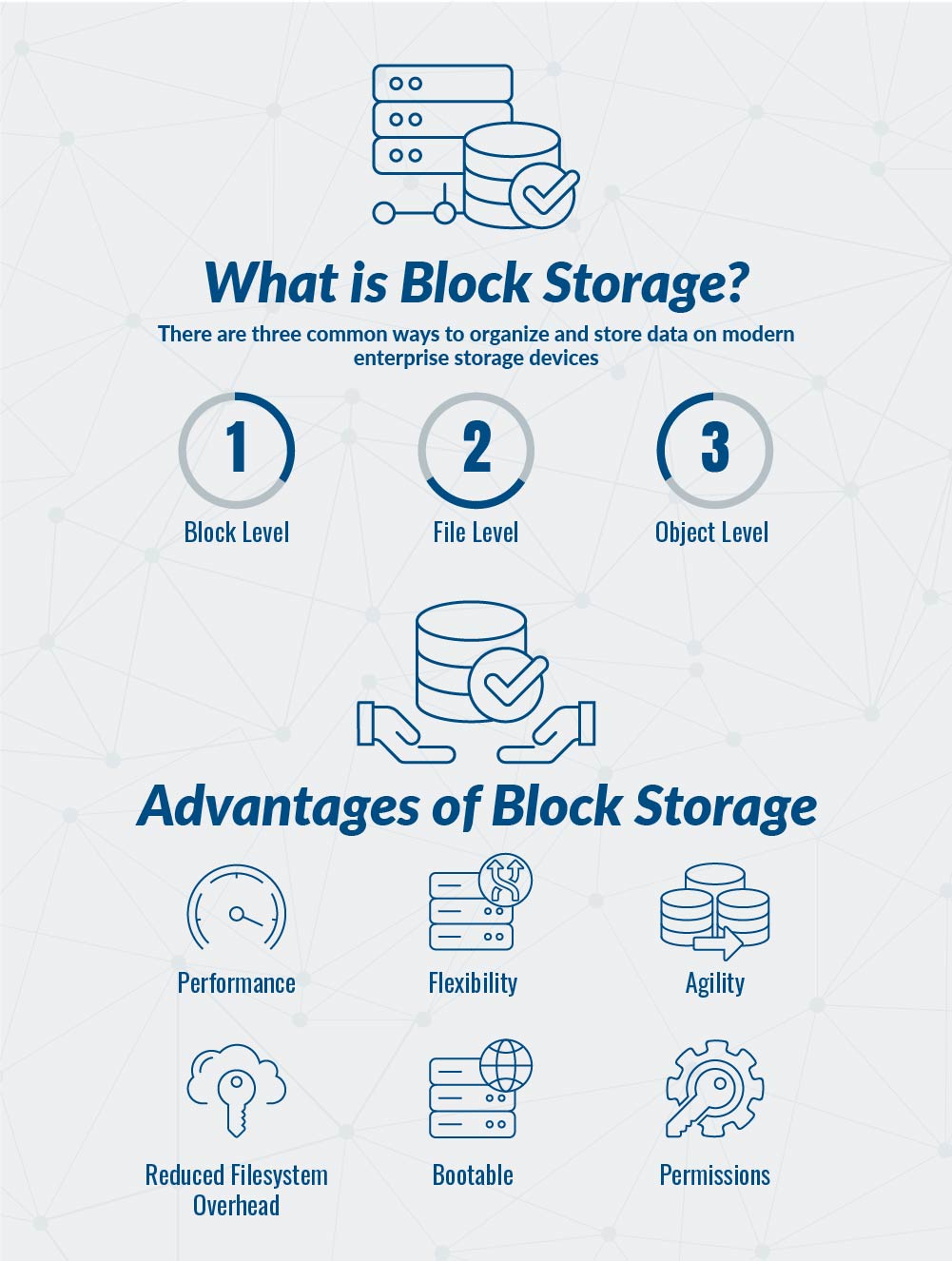 The target server operating system can be either physical or virtual; however, physical servers require additional storage controllers to access the raw SAN block volumes. On a SAN, files are split into evenly sized blocks of data, and the size of each block is determined by the manufacturers hardware capabilities and the storage architect's infrastructure design, according to Data Center Knowledge. Block sizes can vary if flash storage or standard disk storage is used, and choosing the correct block size for the client data is vital to ensure maximum performance. Each data block is then given a location ID by the operating system to keep track of where each block of data is written to on the SAN.
In Object and File level storage principles, metadata is used to arrange the data in a specific hierarchical method on disk, and this metadata usually contains information such as name of file, size and where and when it was written to disk. In object data, metadata also includes the object ID. With block storage (sometimes referred to as virtual storage), metadata is not used for tracking the data, and instead the operating system must track the read/write block unique location identifiers.
Typically, block storage is used where high IO throughput and a low latency network-based storage operation is needed. This might be the case with database servers or business critical software application servers that demand fast, reliable performance. Databases such as Oracle or SAP Hana frequently reside on block level storage. Block storage is also natively supported by VMware virtual machines, as this enables service providers to build fast and versatile virtual infrastructure. This versatility enables the creation of custom solutions like HIPAA compliant storage. Block storage can be used in almost any typical datacenter scenario, whether it be a standard file system for a server or a resilient RAID implementation. The user will need to consider the cost of block level implementation and the performance requirements of any given technical solution, weighing the benefits of block level storage.
Block Storage in the Cloud
Block storage is a very popular service offered by managed service providers. It enables users to have on-demand storage allocated to any cloud instance; in many cases this process takes minutes to complete. This data on demand is protected by high availability and data replication technology, and volumes can be amended by an automated service. Data is secure and encrypted at rest, ensuring that it is impossible for other target servers to access your data. In a cloud scenario, block storage can be an affordable option to extend volume capacity as needed.