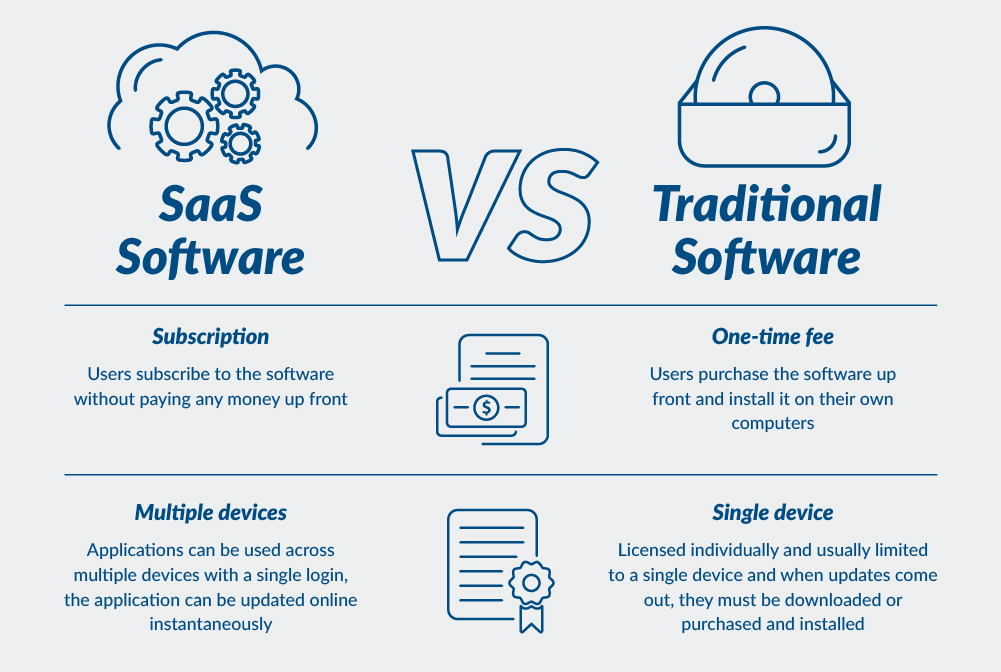 Traditional software is licensed individually and usually limited to a single device, and when updates come out, they must be downloaded or purchased and installed. In the SaaS model, bulk licensing is easier, applications can be used across multiple devices with a single login, the application can be updated online instantaneously, and the cost of onboarding additional users is small, since all files are contained within the cloud provider's environment.

Benefits of using SaaS
While cost is a central reason for using SaaS in your business environment, there are plenty of other advantages to moving your software to a cloud provider. They include:
Scalability: When your developers need to expand your business to meet a growth in demand, you don't want to be caught flat-footed or unable to rise to the occasion. Your SaaS provider can provide more space, more power, and more instances of any particular app with the click of a button. If the increased demand is due to a special event or a busy time of year, your provider can also scale your SaaS back down to normal constraints after the event has ended.
Availability: If you're in your office, you're doing work using SaaS. If you're taking a personal day, you're on your laptop using SaaS. If you have a business trip, you're on the airplane using SaaS. No matter where you are or what device you're using, you can be in the same workspace all the time. SaaS provides flexibility and business efficiency and ensures your employees are never out of the loop.
No Hardware Costs for Cloud-Based SaaS: All of the processing power for SaaS is available from the cloud provider. This means there is also no extra cost for using extra processing power at your office, which can reduce the bottom line and make your work environment greener.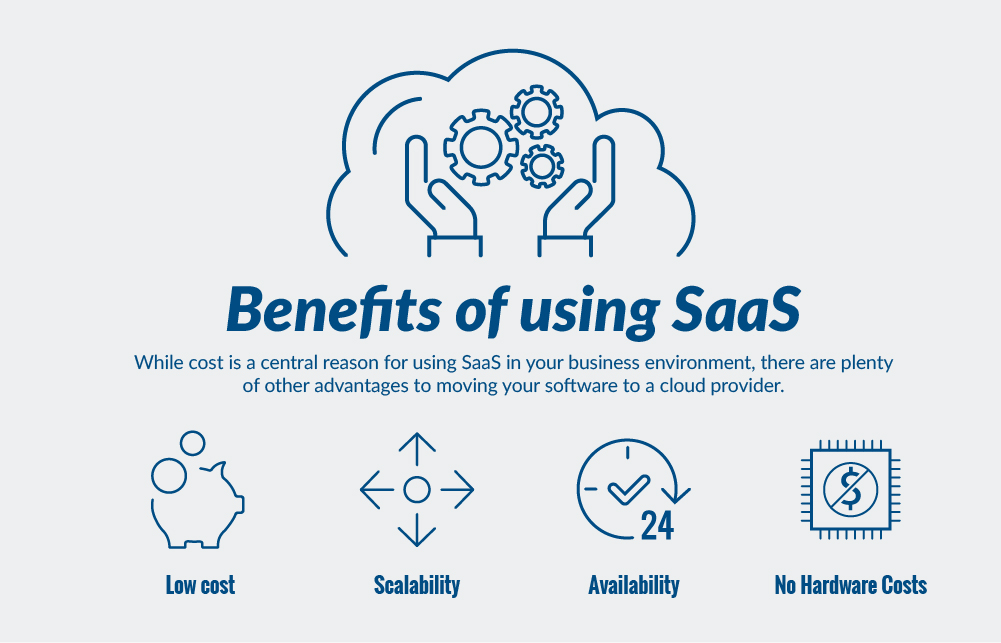 SaaS is a good starter project for IaaS and PaaS. SaaS is the most basic of the three layered models that are at the heart of the cloud provider model for organizations. The other two layers are Infrastructure as a Service (IaaS) and Platform as a Service (PaaS). While SaaS can be as small as one app, IaaS and PaaS represent seismic shifts in the way your firm does business. IaaS includes services and processes such as website hosting, big data analysis, backup, disaster recovery, provision of room for testing by developers and more. PaaS means hosting your entire platform online, allowing complete platform access with a single login.

SaaS Concerns
When firms do vital work in online environment, particularly a new one, the untested solution can give management cause for concern. A few of those commonly-heard questions (with answers) are listed below.
Data: We've all seen the news where giant corporations see their data hacked out of cloud data centers or through third-party apps and sold to the highest bidder or released to the general public. SaaS vendors are generally able to provide more specific security measures for their customers because they have expectations of what sort of data is passing in and out of the SaaS environment and know how to lock down suspicious items. Another pervasive fear is that the SaaS provider will end up 'owning' any uploaded data. This is something for each firm to hammer out when agreeing to a service level agreement (SLA) with the SaaS vendor. Putting the definition of data ownership on paper will take away any worries.
Vendor Reliability: Firms go out of business every day. What happens when your SaaS provider breathes its last? Most SaaS companies will pay in advance to keep their data centers active in such an event, which will allow customers to export data, something that is nearly always written into SLAs, and migrate that data to a new vendor.

Conclusion
Statistics show that by 2020, packaged software will fall to just 10% of sales for new enterprises. As of 2017, 56% of companies were already using at least one provider of SaaS. With unlimited usage options and space to grow, SaaS is an integral part of the current and future business model.
Ready to Get Started with SaaS Hosting?
Atlantic.Net offers affordable SaaS Hosting solutions built on highly available infrastructure with top-tier technical support. Find out how to take advantage of our SaaS Hosting Plans.