What is server virtualization?
Server Virtualization is a technology which enables the creation of a virtual instance of any operating system on a virtual platform. Before server virtualization became mainstream, each individual operating system required a physical platform, typically a server with CPU, Disk, Memory and other associated hardware to host the operating system. On a physical server, an operating system has access to all available computing resources of the host hardware. As servers have become more powerful, this approach has proven very wasteful on hardware resource availability.
In typical server virtualization, many virtual machines are associated to a physical server, a hypervisor is used to share the host hardware with each individual virtual machine. Server virtualization allows resources to be shared with many other virtual machines, enabling organizations to greatly reduce their datacenter hardware footprint and the associated costs of running vast amounts of physical hardware. A Brief History of Server Virtualization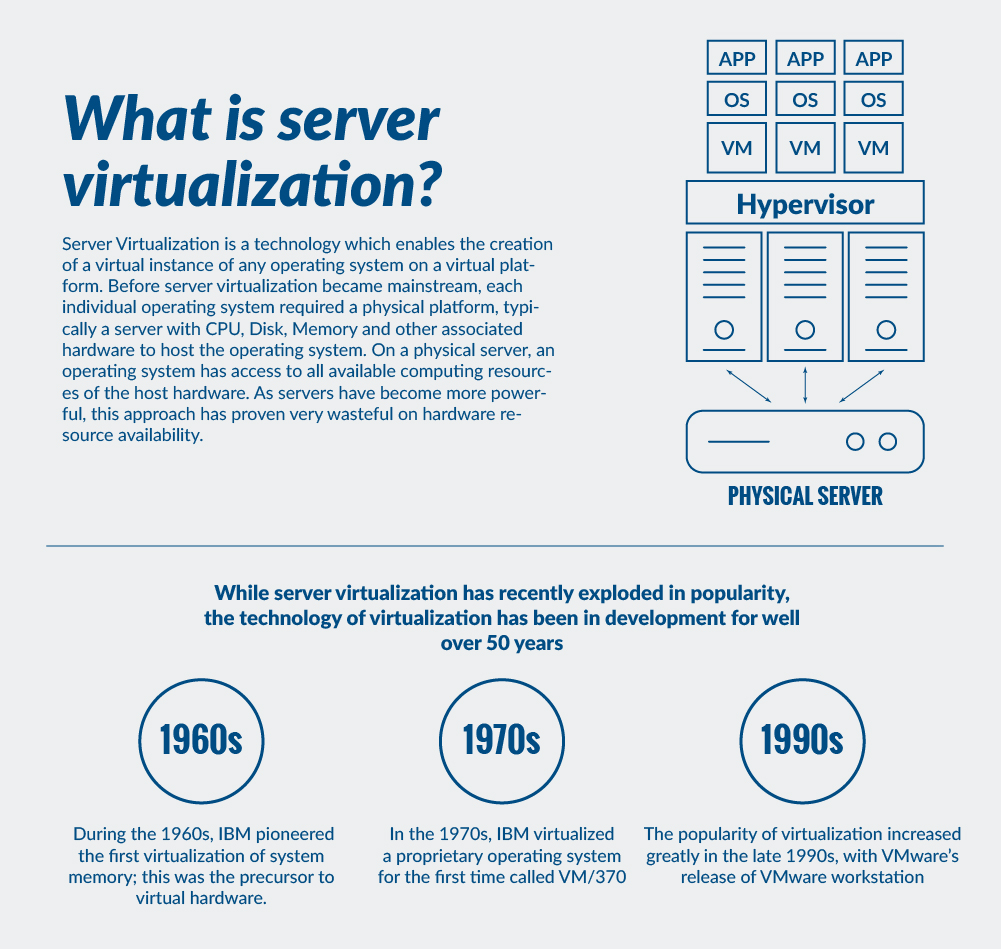 While server virtualization has recently exploded in popularity, the technology of virtualization has been in development for well over 50 years. During the 1960s, IBM pioneered the first virtualization of system memory; this was the precursor to virtual hardware. In the 1970s, IBM virtualized a proprietary operating system for the first time called VM/370. This OS-Level virtualization had little use outside of mainframe computing, but it eventually evolved into a product which became z/VM, the first commercially marketed virtual platform for servers.
Today, server virtualization dominates the IT industry, with many companies moving towards fully virtualized cloud-managed IT ecosystems. The popularity of virtualization increased greatly in the late 1990s, with VMware's release of VMware workstation. This product enabled the virtualization of any x86/x64 architecture and brought virtualization mainstream. It was now possible to run Linux, Windows and MacOS on the same host hardware. This ground-breaking technology has played a key role in shaping IT infrastructure services for the last 20 years. How does server virtualization work?
In all fully virtualized server platforms there must be a host or vendor hardware available. This hardware, usually a server, requires virtualization software called a hypervisor. The hypervisor presents generic virtualized hardware to every operating system that is installed onto the hypervisor. This generic hardware includes all components required by the operating systems to start, components such as hard disks, SCSI drivers, network drivers, CPU and memory allocations. The virtual machine can only interact with the generic hardware and is independent from any other VM; the hypervisor manages the host resources and allocates to each VM. The administrator can then set the hypervisor to allocate different resources to each virtual machine depending on its requirements.
Today, virtualization technology can deploy almost any operating system; Linux, Windows, Aix are widely virtualized. More recently, hardware manufacturers have started offering virtual appliances of their hardware devices. A good example of this is Network Load Balancers, which typically would have been a physical device in a rack, but today, they are often virtualized. Host hardware has become so powerful that offering a virtualized dedicated appliance is more commonplace.